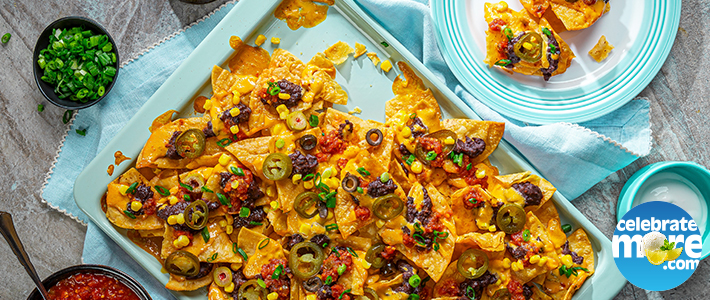 Ingredients
16 Oz. Can Refried Black or Pinto Beans
1 Oz. Package Taco Seasoning
11-13 Oz. Bag Corn Tortilla Chips
15 Oz. Jar Queso Blanco or Salsa Con Queso Dip
⅓ Cup Pickled Jalapeño Pepper Slices, drained
1 Cup Salsa
⅓ Cup Corn, drained can or thawed frozen
¼ Cup Black or Green Olives, sliced
¼ Cup Onion, chopped
Instructions
Preheat oven to 325°F. In small saucepan, heat beans as label directs; stir in taco seasoning.
On large rimmed baking pan, spread chips; top with bean mixture, cheese sauce and jalapeños. Bake 5 minutes or until heated through; top with remaining ingredients and serve immediately.
Notes
Scoop-style corn chips and any canned or jarred cheese sauce (about 1½ cups) can be used in this recipe.
Percent Daily Values are based on a 2,000 calorie diet. Your daily values may be higher or lower depending on your calorie needs.