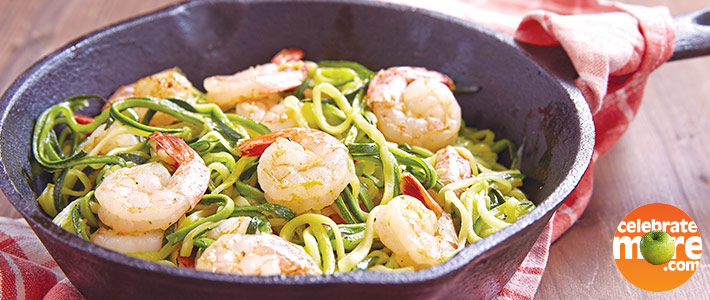 Shrimp Scampi Over Zucchini Spirals
Ingredients
2 Tbsp butter
3/4 Lb. large shrimp, peeled and deveined
2 large cloves garlic, minced
1/2 cup white wine or vegetable broth
1 (12 oz.) package Green Giant Veggie Spirals™ Zucchini, cooked according to package directions and drained
2 Tbsp chopped fresh parsley (optional)
Instructions
Heat butter in large skillet over medium-high heat until butter is melted.
Toss shrimp with garlic and season with salt.
Add shrimp to skillet and cook 5-8 minutes until shrimp turn pink, stirring occasionally.
Add wine (or broth) and simmer 1 minute.
Add Green Giant Veggie Spirals™ Zucchini and toss to coat.
Sprinkle with parsley and serve hot.