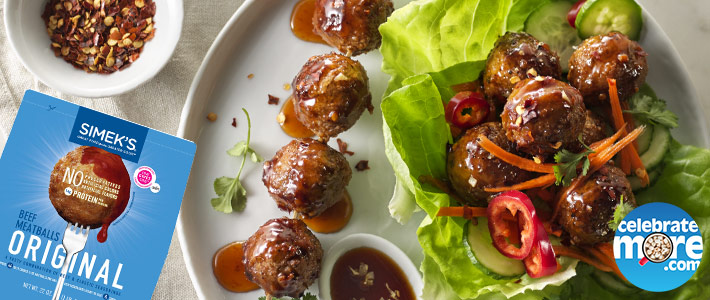 SIMEK'S Korean BBQ Meatball Lettuce Wraps
Ingredients
Shredded Carrots
1 Head Fresh Butter or Bib Lettuce
Chopped Red Chilis (optional)
Cucumber
Cilantro
Korean BBQ Sauce
1 Cup Soy Sauce
¾ Cup Brown Sugar
2 tbsp Minced Garlic
1 tsp Ginger
1 Tbsp Vinegar
1 Tbsp Sesame Oil
1 Tbsp Korean Chili Paste (gochujang paste)
¼ tsp Red Chili Powder
Salt & Pepper to taste
1 Tbsp Cornstarch
1 Tbsp Water
Instructions
Prepare Korean BBQ in pan by adding soy sauce, brown sugar, garlic, ginger, vinegar, sesame oil, chili paste, red chili powder, salt and pepper in saucepan; cooking on medium heat, bringing to a boil.
In separate small bowl, mix together cornstarch and water before slowly adding to boiling sauce mixture. Continue stirring until fully mixed.
Meanwhile, heat meatballs in separate pan, until heated through. Then add meatballs to sauce mixture pan, stirring until all meatballs are coated. Reduce heat to low and simmer meatballs in sauce for 5-10 minutes, stirring occasionally.
While meatballs are simmering, prep lettuce by separating leaves from head of lettuce, rinse and pat dry. Rinse and chop Cilantro and Cucumber as well.
To assemble wraps, place 3-5 meatballs on to lettuce leaf and top with carrots, cucumbers, cilantro and chopped red chilis (if desired). Drizzle with more sauce if preferred. Enjoy!