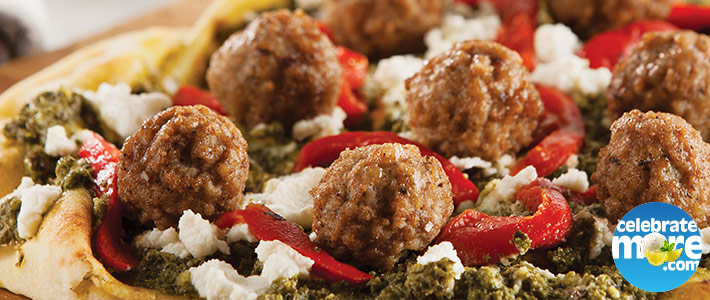 SIMEK'S Mini Meatball Pesto Pizza
Ingredients
1 Package SIMEK'S Mini Meatballs
1 (12-inch) Pre-baked Flatbread Pizza Crust
1/2 Cup Pesto
1/2 Cup Ricotta Cheese
1/2 Cup Roasted Peppers, sliced
Kosher Salt and Black Pepper, to taste
Instructions
Preheat oven to 475° F.
Spread crust with pesto and top with ricotta, roasted peppers and frozen meatballs.
Season with 1/2 teaspoon each salt and black pepper.
Bake according to the instructions on the pizza crust package.
Notes
This recipe can be modified using various types of pizza crusts and toppings, including sun-dried tomatoes, fresh tomatoes, olives, fresh basil, mozzarella, feta, etc. Find more great recipes from SIMEK'S!