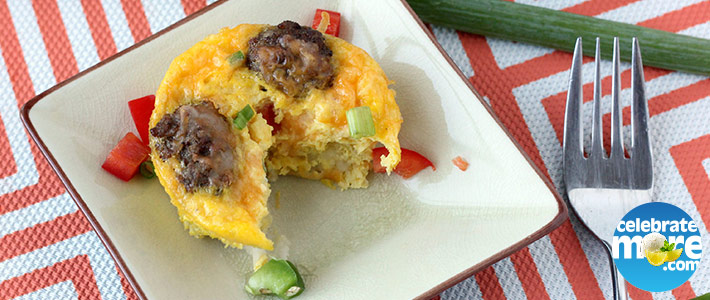 SIMEK'S Mini Sausage Meatball Omelets
Ingredients
8 Eggs
¼ Cup Milk
¼ Cup Water
½ Cup Red Bell Pepper, Diced
½ Cup Green Bell Pepper, Diced
2 Green Onions, diced
1 Cup Shredded Cheese
1 Bag smiley fries, tator tots, or potato cake
Instructions
Heat Oven to 400 degrees.
Spray muffin tin with non-stick cooking spray.
Place 1 round smiley fry, tator tot, or potato cake in each muffin pit and bake for 10 minutes.
Remove from oven and lower temperature to 350 degrees.
Set aside.
Prepare diced onions and peppers.
Whisk together eggs, milk, and water.
Top your potatoes with 3 Simek's Mini Sausage Meatballs, chopped bell peppers and diced onions.
Pour egg mixture over ingredients, filling each muffin tin to the top.
Sprinkle cheese on top of each muffin tin.
Bake at 350 degrees for 25 minutes or until cooked through.
Notes
Find more great recipes from SIMEK'S!