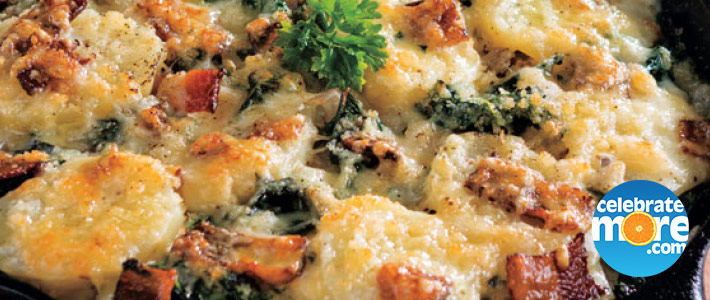 Skillet Potatoes with Swiss Chard & Bacon
Prep: 45 minutes
Bake: 25 minutes • Serves: 8
2-1/2
pounds Idaho potatoes, peeled and cut into 1/4-inch-thick slices (about 6 potatoes)
2
tablespoons unsalted butter
5
slices smoked bacon, diced
1
cup thinly sliced shallots
2
teaspoons chopped fresh thyme
2
garlic cloves, minced
1
large bunch Swiss chard, stems removed, leaves thinly sliced
1-1/2
cups heavy cream
1/2
teaspoon ground nutmeg
2
teaspoons salt
1/2
teaspoon ground black pepper
1
cup shredded Gruyère cheese
2
teaspoons olive oil
1/2
cup plain breadcrumbs
2
tablespoons chopped fresh Italian flat-leaf parsley
1.Preheat oven to 425°F. Heat large saucepot of salted water to boiling over high heat. Add potatoes and cook 12 minutes or until tender; drain.

2.In large oven-safe skillet, heat butter over medium heat 1 minute; add bacon and cook 3 minutes. Add shallots and 1 teaspoon thyme; cook 4 minutes. Add garlic; cook 1 minute. Stir in chard; cook 3 minutes. Add cream and nutmeg; cook 5 minutes or until tender. Remove from heat; stir in salt and pepper. Add potatoes and carefully stir to coat; spread mixture evenly in skillet.

3.In small bowl combine cheese, oil and breadcrumbs; evenly sprinkle over potato mixture. Bake 25 minutes; sprinkle with parsley and remaining 1 teaspoon thyme.


Approximate nutritional values per serving:
433 Calories, 27g Fat (16g Saturated), 75mg Cholesterol,
811mg Sodium, 38g Carbohydrates, 4g Fiber, 11g Protein

Helpful Tip:
> Swiss chard stems can be roasted, sprinkled with sea salt and drizzled with a squeeze of fresh lemon juice for a tasty side dish.