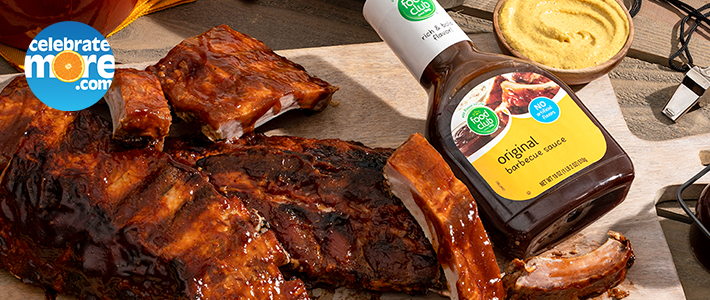 Total Time
3 hours, 15 minutes
Ingredients
BBQ Ribs
1 1/2 C. Food Club Barbecue Sauce
2 Tbsp. Brown Sugar
1 Tbsp. Food Club Worcestershire Sauce
1 1/2 Tbsp. Salt
64 Oz. Racks Baby Back Ribs
Baked Beans
32 Oz. Cans Food Club Homestyle Baked Beans
3 Tbsp. Ketchup
1 Tbsp. Spicy Brown Mustard
1 Tbsp. Molasses
1 Tbsp. Brown Sugar
Instructions
BBQ Ribs
Spray the inside of a slow cooker with nonstick cooking spray.
Mix the barbecue sauce, brown sugar, Worcestershire sauce and salt in a small bowl.
Brush the ribs with the barbecue sauce mixture and arrange the ribs in the slow cooker. Pour the remaining barbecue sauce over the ribs.
Cook on LOW heat for 2 to 3 hours, or until heated through and the meat is fork tender.
Baked Beans
Preheat oven to 375°F.
In a 2-quart baking dish, mix together the baked beans, ketchup, spicy brown mustard, molasses and brown sugar.
Bake for 20 to 25 minutes, or until beans are bubbly on the edges. Serve with the BBQ ribs.
Enjoy an easy and tasty dinner with these Slow Cooker BBQ Ribs with a side of baked beans to really make it a meal! Don't forget something sweet – check out our desserts page for a tasty treat to enjoy after your meal.
Shop from the comfort of your home! You can shop online at any of our proud family of stores for these recipe ingredients as well as the rest of your grocery list! We offer curbside pick up at all locations and delivery in select locations as well. Don't forget to connect your MORE Rewards account when you shop online for extra savings, digital coupons, and many other rewards too!
Shop Ingredients