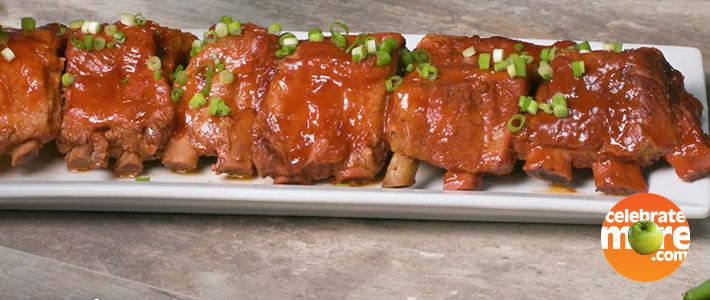 Cook Time
4 hours, 30 minutes
Total Time
4 hours, 40 minutes
Ingredients
Nonstick Cooking Spray
3 Lbs. Baby Back Pork Ribs, cut crosswise into 6 (3-inch) slabs
2 tsp. Garlic Powder
2 tsp. Onion Powder
2 tsp. Paprika
1 tsp. Kosher Salt
1 Bottle (16.9 fluid ounces) Pepsi®
1 Cup Four Brothers Barbecue sauce
3 Green Onions, thinly sliced
Instructions
Spray 5- to 6-quart slow cooker with cooking spray. Add ribs to slow cooker; sprinkle with garlic powder, onion powder, paprika and salt. Add Pepsi; cover and cook on high 4 hours or low 8 hours or until ribs are tender.
Pour barbecue sauce over ribs to coat; cover and cook on high 30 minutes or low 1 hour or until ribs are very tender. Serve ribs sprinkled with green onions.
Percent Daily Values are based on a 2,000 calorie diet. Your daily values may be higher or lower depending on your calorie needs.