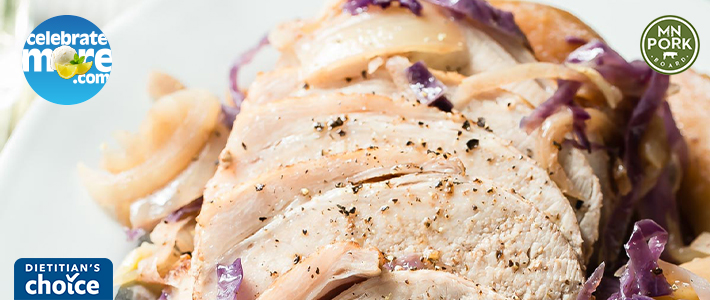 Slow Cooker Pork Roast with Apples and Onions
Ingredients
3.5 lb. Boneless Pork Loin
1 Tbsp. Olive Oil
Salt & Black Pepper, to taste
3 Apple, cored and cut into 8 wedges (Try Gala or Pink Lady)
2 Yellow Onions, sliced
1 Head Red Cabbage, sliced
1 Bay Leaf
1 1/2 tsp. Cinnamon
1 C. Low Sodium Chicken Stock (or apple juice)
2 Tbsp. Honey (or brown sugar)
Instructions
Heat oil in a large sauté pan (or use your slow cooker if it's safe to sauté with) over medium high heat. Season pork with salt and pepper and sauté on each side for a total of 4 minutes. Set aside.
Place the remaining ingredients in a slow cooker and top with pork.
Cook the pork for 5-6 hours on LOW (about 1 1/4 hours per pound) until pork is cooked through and the fruit and vegetables are fork tender. The National Pork Board recommends cooking pork chops, loin roasts and tenderloin to an internal temperature between 145°F (medium rare) and 160°F (medium), followed by a three-minute rest.
When the weather starts to get a bit cooler and you are craving fall boots, turtlenecks, and a temperature plunge. When cooked on low in a slow cooker, a pork loin roast becomes tender, moist, juicy, and downright delectable.