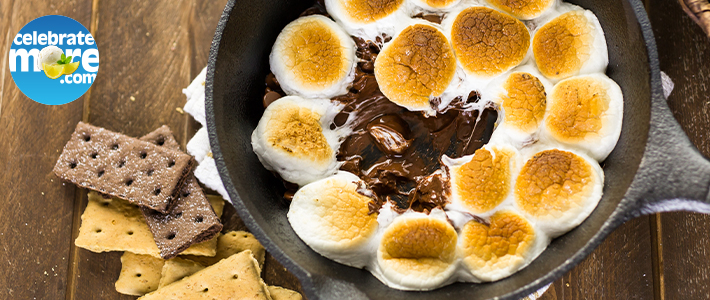 Ingredients
6 Chocolate Bars, (1.5 oz bars)
1 Bag Large Marshmallows
Graham Crackers, for Dipping
Instructions
Preheat oven to 400° F. Spray baking pan or cast iron with non-stick spray.
Break up the chocolate bars and spread an even layer on the bottom of an 8 or 9 inch cast iron skillet or baking dish.
Add a layer of marshmallows on top of the chocolate. Be sure they are touching one another to evenly cover the chocolate.
Bake in the oven for 8-10 minutes, watching closely after 5 minutes to be sure marshmallows don't burn.
Remove from the oven and let sit for about 5 minutes. The chocolate will continue to melt.
Serve immediately from the pan with graham crackers for dipping.