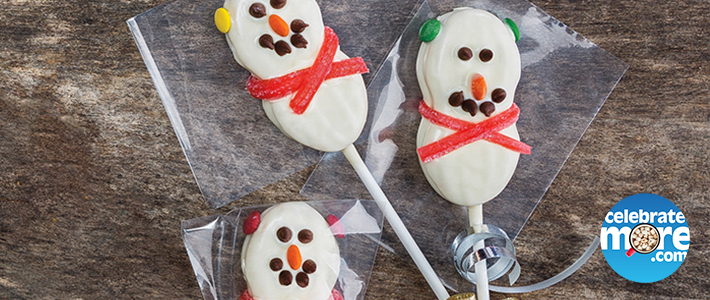 Ingredients
2 Cups Vanilla Candy Coating
20 Lollipop Sticks
20 Peanut Butter Sandwich Cookies
3 Tbsp. Mini Candy-Coated Milk Chocolate Candies
2 Tbsp. Mini Chocolate Chips
10 Sour Candy Straws, cut crosswise into 5-inch strips, then halved lengthwise
Instructions
Line rimmed baking pan with parchment paper. Melt candy coating as label directs. Dip 1 end of lollipop sticks into candy coating; insert about ¾ inch into bottom of cookies through filling. Let stand 5 minutes or until set.
Dip cookies into vanilla candy coating to completely cover; place on prepared pan. Reheat melted chocolate as necessary if it begins to harden.
Arrange chocolate candies on cookies to make snowman "earmuffs" and "nose." Arrange chocolate chips on cookies to make snowman "eyes" and "mouth." Wrap 1 sour candy straw piece around center of each snowman cookie to make "scarf." Refrigerate until ready to serve.
Notes
For gift giving, insert 1 Snowman Cookie Pop into a small candy bag. Tie a ribbon in a bow around the bag and the cookie pop stick. Refrigerate until ready to serve.
Percent Daily Values are based on a 2,000 calorie diet. Your daily values may be higher or lower depending on your calorie needs.