Something to Rave About: Food-on-a-Stick
Coborn's has been committed to helping our shoppers enjoy favorite state fair foods despite the Great Minnesota Get Together not taking place this year. We're taking it one step further by combining two fair favorites – food-on-a-stick and apples, specifically Rave® apples, the first off the tree each year and available now in our stores.
Here are some ideas for combining these two fair favorites:
Grilled Cheese Apple Skewers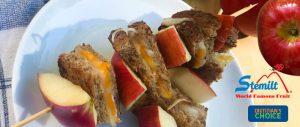 Make your favorite grilled cheese sandwich. We recommend whole wheat bread as a flavor complement to the cheese and apples. Then cut the sandwich into six squares. While the sandwich is cooking, cut a Rave® apple into 8-12 chunks. Using skewers, alternate each sandwich square with 1-2 apple chunks.
This recipe is a great way to incorporate fruit directly into a main dish. According to the Produce for Better Health Foundation, market research suggests eating fruit and veggies every day of the week can help improve happiness, life satisfaction and emotional wellbeing. These skewers are also a great change of pace for breakfast, the meal where the fewest fruits and vegetables are eaten.
#PasstheRave and Dip.
For an easy peanut butter dip, mix 1 cup Greek yogurt, ¼ cup peanut butter, 2 tablespoons honey or maple syrup, and ½ teaspoon of vanilla. Portion dip into individual cups for each person. Core Rave® apples and cut into large slices. Put one slice on a skewer, continuing until all slices are used. Enjoy!
The Perfect Pairing: Rave® + Cheese.
Because it's so juicy and crisp, Rave® is best for fresh applications, like dipping in the recipe above or paired with cheese. For a snack kids can assemble themselves, cube your favorite cheese and cut Rave® apples into chunks. Alternate on skewers.
Now's the time to #PasstheRave on-a-stick in celebration of the great tradition of the Minnesota State Fair.