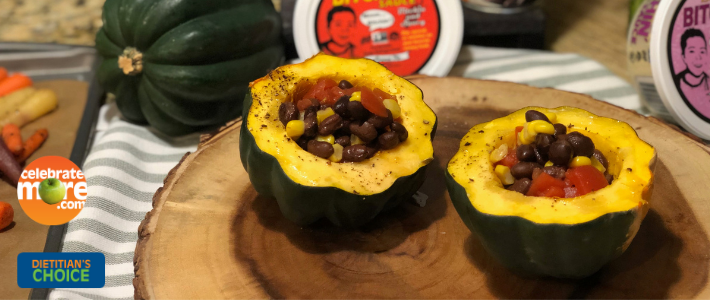 Southwest Stuffed Acorn Squash
Ingredients
4 Scorn Squash
Olive Oil
Salt and Pepper
1-10 oz Package Brown Rice
1 Small Onion, diced
1/2 Tablespoon Olive Oil
1-15 oz can Diced Tomatoes, no salt-added
1-15 oz Can Black Beans, rinsed and drained
1-15 oz Can Sweet Corn, rinsed and drained
1 Container Chipotle Bitchin' Sauce
Optional Toppings: Shredded Cheese, Cilantro
Instructions
Preheat oven to 350 degrees F.
While oven is preheating, prepare acorn squash by cutting the tops off each squash. Using a spoon (or clean hands), remove seeds.
Coat the inside of each squash with olive oil, and season with salt and pepper. Add to a lined baking sheet. Set aside.
While oven is preheating, steam brown rice packet in microwave according to package directions.
In a medium skillet, add olive oil and dice onion and sauté over medium-high heat until translucent (about 5 minutes).
Reduce heat to medium and add tomato, black beans, corn, brown rice, and entire container of Chipotle Bitchin' Sauce to sautéed onion. Stir and cook for about 3 minutes or until well-combined.
Fill squash with veggie/rice mixture and bake for 30 minutes.
Once stuffed squash is cooked, top with your favorite toppings such as shredded cheese or cilantro.