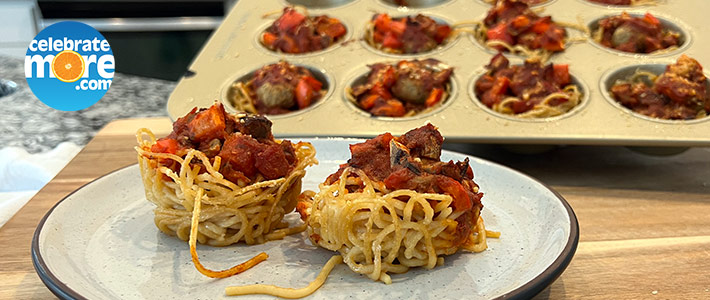 Spaghetti and Meatball Cups
Ingredients
Olive oil cooking spray
½ package 100% whole grain spaghetti pasta
3/4 C. Grated Parmesan Cheese
1 1/2 C. Four Brothers Tomato Basil Pasta Sauce
1 Red Bell Pepper, diced
4 Oz. Mushrooms, diced
24 Simek's Turkey Meatballs
Instructions
Preheat the oven to 375F.
Place parchment paper on a baking tray. Spread the meatballs in the pan and bake for 16-20 minutes, until fully cooked. Have an adult take the temperature of the meatballs to read 165F.
Cook and drain the pasta. Toss with grated parmesan cheese.
In a medium bowl, stir the diced red peppers and mushrooms into the pasta sauce.
Spray a muffin tin with the cooking spray.
Divide spaghetti into each of the muffin cups and arrange into nest-like structures.
Place 1 Tablespoon of the sauce mixture into each cup. Top with 1 meatball and one mote Tablespoon of sauce. Sprinkle with a pinch more parmesan cheese.
Bake 20-25 minutes until pasta and meatballs are heated through. Allow to cool slightly before transferring to plates.
Shop Ingredients