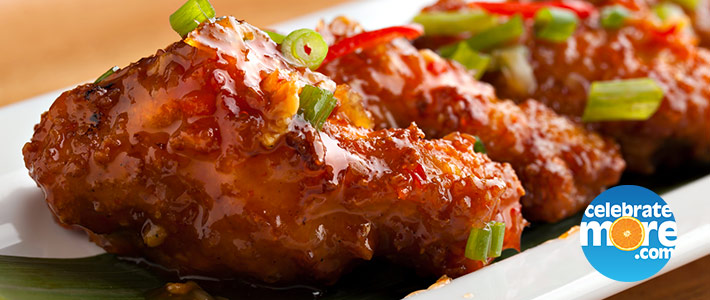 Spicy Thai Chicken Wings
Wow! These are the best for that summer grilling party! If you like a little zip in your wings these were awesome. The flavor is outstanding with the mixture of fresh cilantro, chili sauce and lime. Enjoy… I did!
Jayne,
Coborn's Inc. Meat and Seafood Merchandiser
Spicy Thai Chicken Wings
Ingredients
20 Chicken Wings
1/3 Cup Chicken Broth
1/3 Cup Oyster Sauce
1/3 Cup Honey
3 T. Fresh Cilantro, chopped
2 T. Chili Sauce
2 T. Grated Lime Peel
1/4 Cup Green Onions, chopped
3 Cloves Garlic, finely chopped
Instructions
Cut each chicken wing at joints to make 3 pieces; discard tip.
In large bowl mix remaining ingredients.
Reserve 1/4 cup of marinade to a small bowl and set aside; add chicken to marinade in plastic bag; turn to coat.
Seal bag and refrigerate, turning once, at least 1 hour.
Heat gas or charcoal grill.
Remove chicken from marinade; discard marinade in bag.
Place chicken on grill over medium heat.
Cover grill; cook 45 to 50 minutes, brushing with 1/4 cup reserved marinade turning once, until chicken reaches an internal temperature of at least 165 degrees.
Discard any remaining marinade.
Notes
Suggested Wine Pairing Fetzer Vineyards Gewurztraminer