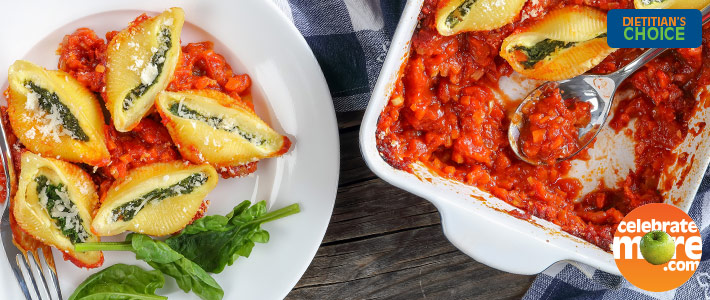 Spinach and Cottage Cheese Stuffed Shells
Ingredients
20 Jumbo Pasta Shells, cooked
1 1⁄2 Cups KEMPS Cottage Cheese
1/2 Cup Reduced-Fat Mozzarella Shredded Cheese
2 tsp Dried Parsley Flakes
1 tsp Italian Seasoning
2 tsp Minced Garlic
10 Oz. Package Frozen Chopped Spinach, thawed and drained
1/2 Small Onion, finely chopped
Pepper, to taste
1 Egg
3 Cups Lower Sodium Spaghetti Sauce, divided
Instructions
Cook pasta shells according to directions on package.
Meanwhile, preheat oven to 350ºF.
In large bowl, combine cottage cheese, mozzarella, seasonings, spinach, onion and egg.
Pour half of sauce in a 9x13 pan.
Fill shells with cheese mixture, and place into pan with sauce.
Drizzle remaining sauce lightly over top of shells.
Cover with foil and bake for 35 minutes. Let stand 5 minutes before serving.
Notes
Nutrition per serving (4 shells): Calories 306, Carbs 48g, Fat 6g, Protein 21g, Sodium 580mg, Sugar 12mg.