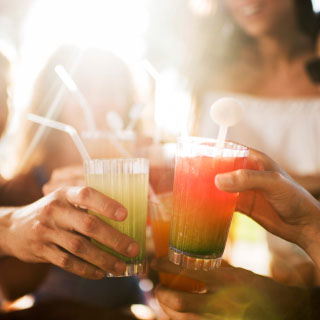 Spotlight on Summer Beverages
Leinenkugel's Shandys
The German-brewed Summer and Grapefruit Shandy beers combine the flavors of lemonade and grapefruit with Weiss beer. Cool down with these varieties on their own or try pouring them over an ice cream sundae for a boozy dessert.
Palm Breeze Ruby Red Citrus
This sparkling alcohol spritz is a tropical vacation in a can. It's refreshingly light while perfectly thirst-quenching for a hot summer day. This variety has the flavor of fresh cut grapefruit.
Patron Silver Tequila
This premium, ultra smooth crystal clear tequila is a summer margarita must-have. Made with 100% Blue Agave, its citrus tones will add a fruity aroma to a variety of cocktails.
Malibu Caribbean Rum
This coconut-flavored Caribbean rum pairs perfectly with the tropical taste of fruit like banana, pineapple and mangoes. It's also the ideal mixer for a frozen pina colada.
Thatcher's Organic Artisan Vodka
This line of organic artisan spirits is sustainably farmed, all natural and made with certified organic ingredients. For a high quality, refreshingly "clean" drink this summer, try it in a vodka tonic with a lemon twist.