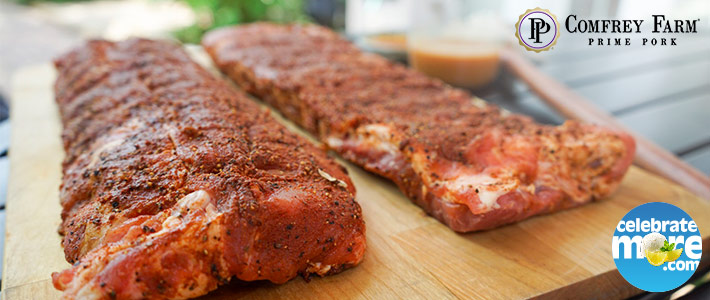 Comfrey Farm St. Louis Style Pork Ribs
Ingredients
2 Racks Comfrey Farm Pork Ribs
For Smoker
Charcoal Briquettes
Mesquite Wood Chunks
Dry Rub
1/2 cup paprika
3 tsp black pepper
1/4 cup mild chili powder
1/2 cup garlic powder
3 Tbsp Kosher salt
2 tsp dry mustard
2 Tbsp onion powder
2 Tbsp celery seeds
1.5 Tbsp dried oregano
1.5 Tbsp dried thyme
1.5 Tbsp cumin
2 tsp ground coriander
2 cups brown sugar
Yellow Mustard
Stainless steel bowl
Pastry brush
Sauce (optional, or use your favorite BBQ sauce)
4 Tbsp brown sugar
2 Tbsp Worcestershire sauce
4 Tbsp butter
1/3 can of root beer
Aluminum paper
Parcel
Instructions
Fire up smoker with your favorite fuel source. Let smoker reach between 225 - 250°F.
Meanwhile, mix all dry rub ingredients, except yellow mustard, together in a stainless steel bowl.
Peel off silver skin from backside of ribs. Using a pastry brush, spread yellow mustard all over ribs. Then sprinkle rub on both sides of the ribs, covering mustard evenly to ensure they are well coated.
Place ribs into smoker. Once they reach internal temperature of 170°F, move them to a large piece of aluminum foil.
If using homemade sauce, coat ribs with brown sugar and Worcestershire sauce, spreading evenly. Add slices of butter and add root beer. Fold up foil and close tightly making sure there are no holes. (If using bbq sauce, simply coat evenly with desired amount of sauce and fold up foil around ribs in similar fashion.)
Place back in smoker until ribs reach 203°F.