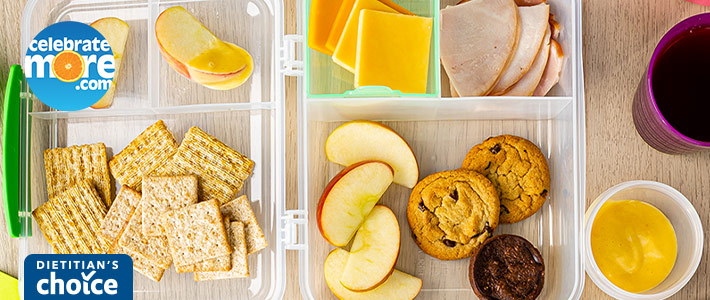 Ingredients
32 Wheat Thins
12 Triscuits
8 Slices Gouda Cracker Cuts
8 Slices Sharp Cheddar Cracker Cuts
4 Slices Lower Sodium Ham Slices, quartered
4 Slices Lower Sodium Turkey Slices, quartered
4 Brownie Bites
8 Mini Cookies
2 Medium Honeycrisp Apples, halved, cored and each cut into 8 wedges
1/2 C. Honey Mustard
Instructions
Divide Triscuits and Wheat Thins into 4 zip-top plastic sandwich bags; seal bags, pressing out excess air.
Fill lunch boxes by dividing cheeses into 1 compartment, ham and turkey into 1 compartment, brownie bites and cookies into 1 compartment, apples into 1 compartment and mustard into remaining compartment; cover with lids and refrigerate up to 2 days.
Serve each lunch box with 1 bag crackers.
Notes
Dietitian Tip:
If you don't have bento boxes, use whatever you have on hand! Reusable or plastic containers and baggies work perfectly.
Chef Tip:
Drizzle apple wedges with lemon juice to help prevent them from browning.
Approximate nutritional values per serving (1 lunch box, 1 bag crackers): 556 Calories, 24g Fat, 9g Saturated Fat, 51mg Cholesterol, 968mg Sodium, 63g Carbohydrates, 6g Fiber, 32g Sugars, 21g Added Sugars, 17g Protein
Meal prep for kids can be both fun and nutritious with this Stack-It Lunch Box! Perfect for school lunches. Find more tasty kids recipes and get your kids more involved in the kitchen by checking out our Kids Cook At Home classes! These FREE classes are provided by our dietitian team to help you and your kids have fun while making kid friendly and nutritious recipes.
Shop from the comfort of your home! You can shop online at any of our proud family of stores for these recipe ingredients as well as the rest of your grocery list! We offer curbside pick up at all locations and delivery in select locations as well. Don't forget to connect your MORE Rewards account when you shop online for extra savings, digital coupons, and many other rewards too!
Shop Ingredients