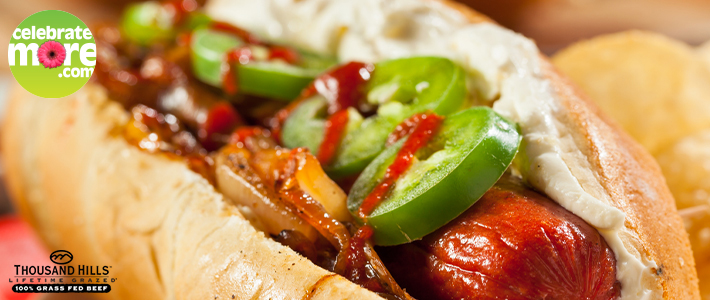 Stadium Brats & Chili Dogs
Ingredients
Stadium Brats
Thousand Hills Brats
Olive Oil
Green and Red Bell Peppers, sliced
Large onion, sliced
Brat Buns
Chili Dogs
Thousand Hills Franks
Chili
Jalapeños
Instructions
Stadium Brats
Crook brats on grill until internal temperature reaches 165°F and there are nice grill marks. Remove from heat.
Add sliced bell peppers (1 green, 1 red) and one large onion sliced to grill pan or add olive oil to a hot sauté pan. Cook until tender and there is a slight charring from the grill or pan.
Add brat to bun, onions, and peppers on top, add any condiments you want and enjoy!
Chili Dogs
Cooked the franks on a grill until warm and grill marks are showing. Add chili to a pot on grill or stove stop and cook until warm. Add fixings on top and enjoy!
Notes
Recipes and image provided by Thousand Hills