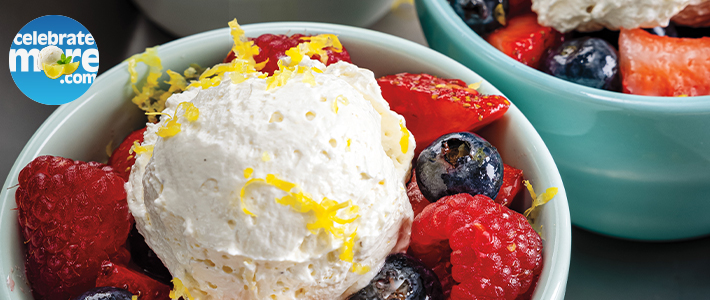 Star-Spangled Berries and Whipped Yogurt Cream
Ingredients
1 1/2 Cups Strawberries, chopped
3/4 Cup Blueberries
3/4 Cup Raspberries
1 Tbsp. Plus 1 tsp. Honey
1 1/2 tsp. Fresh Lemon Juice
2/3 Cup Cold Heavy Cream
1 tsp. Vanilla Extract
1 Cup Cold Vanilla Nonfat Greek Yogurt
1 tsp. Finely Grated Lemon Zest Plus Additional for Garnish (optional)
Instructions
In small bowl, gently stir berries, 2 teaspoons honey and lemon juice; let stand 30 minutes.
In medium bowl, with mixer on medium speed, beat cream, vanilla extract and remaining 2 teaspoons honey 1 1/2 minutes or until stiff peaks form; fold in yogurt and lemon zest. Makes about 2 cups.
Divide berries into 6 small dessert dishes; top with yogurt cream and garnish with lemon zest, if desired. Serve immediately.