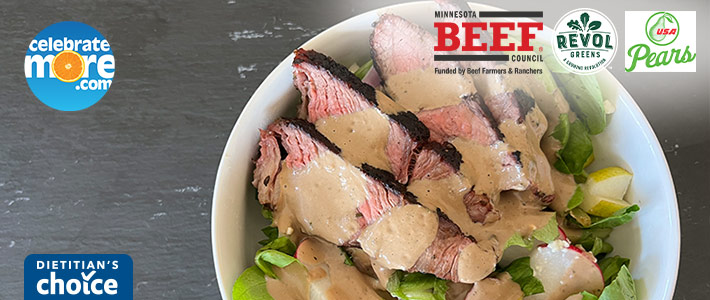 Steak Salad with Creamy Balsamic Dressing
Prep Time
1 hour, 30 minutes
Total Time
1 hour, 40 minutes
Ingredients
For The Steak
1 Tri-Tip Roast (about 2 lbs.)
1/2 tsp. Pepper
1/4 C. Olive Oil
1 Lime, zested and juiced
2 tsp. Dried Oregano
For The Salad
4 oz. Revol Greens Green Leaf Crunch
2 Pears, diced
1/4 C. Radishes, sliced
1/4 C. Red Onion, sliced
1/4 C. Blue Cheese, crumbled
For The Dressing
6 Tbsp. Olive Oil
6 Tbsp. Balsamic Vinegar
6 Tbsp. Plain Nonfat Greek Yogurt
3 Cloves Garlic, peeled
2 tsp. Dijon Mustard
2 tsp. Brown Sugar
2 tsp. Dried Oregano
Instructions
Marinate the steak: Combine all the marinade ingredients in a plastic bag and seal. Refrigerate for 1 up to 12 hours.
Cook the beef: Preheat oven to 350F. Roast the Tri-Tip until it reaches an internal temperature of 145F for medium rare, about 30-40 minutes. Allow to rest for 5 minutes before cutting.
Meanwhile, assemble the salad. In a large bowl, toss all the salad ingredients together.
Use a blender or immersion blender to combine the dressing ingredients. Blend until smooth.
Finish your salad by topping it with sliced steak and dressing. Enjoy!
This Steak Salad with Creamy Balsamic Dressing is for all you steak lovers out there! Perfect for grilling and tastes amazing. Our dietitian's are adding new recipes all the time, so check out our Dietitians Choice Recipes page for all their latest recipes!
Shop from the comfort of your home! You can shop online at any of our proud family of stores for these recipe ingredients as well as the rest of your grocery list! We offer curbside pick up at all locations and delivery in select locations as well. Don't forget to connect your MORE Rewards account when you shop online for extra savings, digital coupons, and many other rewards too!
Shop Ingredients