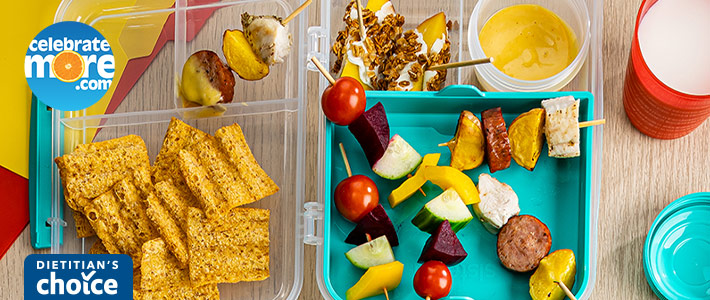 Ingredients
64 Sun Chips
3 Baby Dutch Yellow Potatoes, quartered
6 (1/2-inch-thick) Slices Beef Smoked Sausage
1/4 tsp. Salt
1/4 tsp. Ground Black Pepper
Nonstick Cooking Spray
32 (2 1/2-inch) Toothpicks
6 Cherry Tomatoes, halved
3 Cooked Beets, quartered
3 (1-inch-thick) Slices English Cucumber, quartered
1/2 Large Yellow Bell Pepper, cut into 1-inch pieces
1 Medium Peach, halved, pitted and cut into 8 wedges
1/4 C. Low-Fat Cream Cheese, softened
1/4 C. Vanilla Almond Granola
1 tsp. Powdered Sugar
1/4 C. Honey Mustard
Instructions
Divide Sun Chips into 4 zip-top plastic sandwich bags; seal bags, pressing out excess air.
To cook potatoes, preheat 3-quart air fryer to 350° for 5 minutes. Add potatoes to air fryer; air fry 15 minutes or until golden brown and crisp, shaking basket once. During last 5 minutes of cooking, add sausage; air fry 5 minutes or until crisp, shaking basket once. Cool completely. If you do not have an air fryer, feel free to complete this step in the oven.
Alternately thread potatoes, sausage and beets onto 12 toothpicks.
Alternately thread fresh vegetables, such as cucumber, bell peppers, and tomatoes onto 12 toothpicks.
Thread peaches onto 1 end of remaining 8 toothpicks; spread both sides of peaches with cheese, sprinkle with granola and dust with powdered sugar. Makes 8 mini peach crumble pops.
Fill your lunchboxes with 2 sausage skewers, 2 veggie skewers, and 2 mini peach crumble pops each. Include honey mustard for dipping and the Sun Chips for a salty crunch! Refrigerate up to 2 days.
Notes
Dietitian Tips:
You can use leftover proteins and veggies from last night's dinner for this lunchbox. Feel free to get creative with what you have on hand!
If you don't have bento boxes, use whatever you have on hand! Reusable or plastic containers and baggies work perfectly.
Don't have an air fryer? No problem! You can use your oven to cook up veggies and protein, it just may take some extra time.
To cook your own beets:
Wash thoroughly.
Peel the outer skin with a vegetable peeler.
Cut into 1x1 inch pieces.
Follow the same instructions as above for the potatoes. You can even cook them at the same time!
Approximate nutritional values per serving (1 lunch box, 1 bag chips ): 409 Calories, 17g Fat, 5g Saturated Fat, 61mg Cholesterol, 651mg Sodium, 43g Carbohydrates, 5g Fiber, 14g Sugars, 4g Added Sugars, 20g Protein
Meal prep for kids can be both fun and nutritious with this Stick-It Lunch Box – no forks or spoons necessary! Find more tasty kids recipes and get your kids more involved in the kitchen by checking out our Kids Cook At Home classes! These FREE classes are provided by our dietitian team to help you and your kids have fun while making kid friendly and nutritious recipes.
Shop from the comfort of your home! You can shop online at any of our proud family of stores for these recipe ingredients as well as the rest of your grocery list! We offer curbside pick up at all locations and delivery in select locations as well. Don't forget to connect your MORE Rewards account when you shop online for extra savings, digital coupons, and many other rewards too!
Shop Ingredients