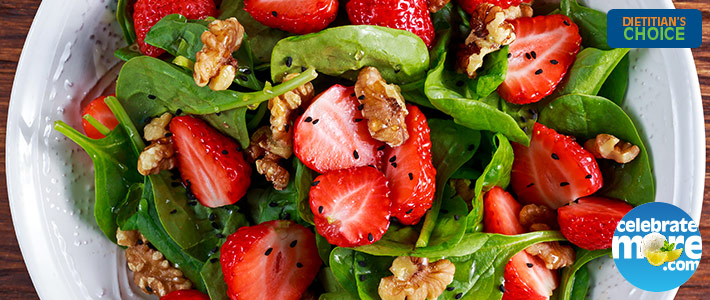 Strawberry and Spinach Salad
Ingredients
Salad
1 Lb. Fresh Baby Spinach
2 Cups Strawberries, sliced
3/4 Cup red onion, sliced
2 Tbsp. Walnuts (optional)
Dressing
1/4 Cup Extra Virgin Olive Oil
2 Tbsp. Vinegar
2 Tbsp. Sugar
2 tsp Poppy Seeds
Instructions
Wash and dry the baby spinach.
In a large bowl, blend together the spinach, sliced strawberries, and red onion.
In a small bowl, whisk together the olive oil, vinegar, sugar and poppy seeds.
Pour the dressing over the spinach blend just before serving. Toss gently to coat evenly. Top with walnuts if desired.
Notes
Dietitian's Tip: If you are looking to add protein, try adding garbanzo beans or grilled chicken! Feel free to add other fruits such as blueberries, blackberries, or fresh raspberries for a refreshing summer salad!
Recipe provided by Reach Up Head Start Early Head Start. Get more recipes here.