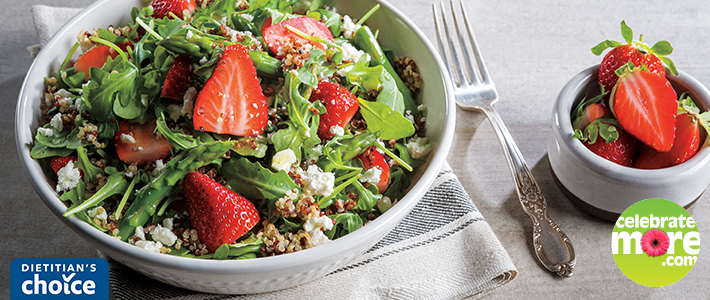 Strawberry, Arugula and Quinoa Salad with Asparagus & Feta
Ingredients
½ Bunch Asparagus, ends trimmed, cut into 2-inch pieces
¼ Cup Fresh Lemon Juice
2 Tbsp. Honey
1 tsp salt
1½ tsp fresh ground black pepper
¼ Cup Extra Virgin Olive Oil
1 Package (8.8 Oz.) White & Red Quinoa, ready to serve
2 Cups Arugula, loosely packed
2 Cups Fresh Strawberries, halved
1 Cup Feta Cheese, crumbled
Instructions
Heat large pot of salted water to a boil over high heat. Add asparagus; cook 1½ minutes. Transfer asparagus to bowl filled with ice water; once cooled, drain and pat dry.
In large bowl, whisk lemon juice, honey, salt and pepper; whisking constantly, slowly drizzle in oil until emulsified. Add quinoa, arugula and asparagus; toss to combine. Fold in strawberries and cheese. Makes about 7 cups.
Percent Daily Values are based on a 2,000 calorie diet. Your daily values may be higher or lower depending on your calorie needs.