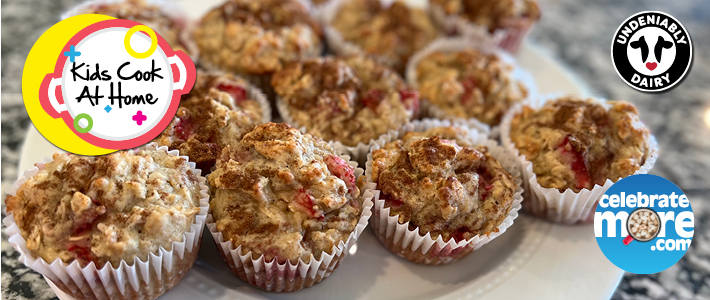 Strawberry Oatmeal Muffins
Muffins are an easy option to include with breakfast or an afternoon snack. Plus, they are fun for the kids to make!
Ingredients
1 C. Oats
1/2 C. Brown Sugar
1 C. Strawberry Greek Yogurt
1/3 C. Light Olive Oil
1 Egg, beaten
1 C. All-Purpose Flour, plus 2 tablespoons extra
1/2 tsp. Salt
1 tsp. Baking Powder
1/2 tsp. Baking Soda
1 C. Strawberries
Cinnamon, garnish
Instructions
Preheat the oven to 400 degrees. Prepare a muffin tin with paper liners.
Wash your hands with soap and water.
Chop the strawberries and toss to coat with the extra 2 tablespoons of flour.
Add oats, brown sugar, Greek yogurt, oil, and egg to a bowl and mix thoroughly. Set aside while you complete steps 4 and 5.
In a large bowl, mix the flour, salt, baking powder, baking soda, and strawberries until evenly combined.
Add the wet ingredients from step 4 to large bowl and stir until just combined, using a spatula or spoon.
Spoon the muffin batter into each of the paper liners, filling them about ¾ of the way.
Sprinkle the muffin tops with cinnamon.
Bake the muffins for 15-20 minutes. They will be done cooking when the tops are browned and a toothpick comes out cleanly. Allow to cool before eating!