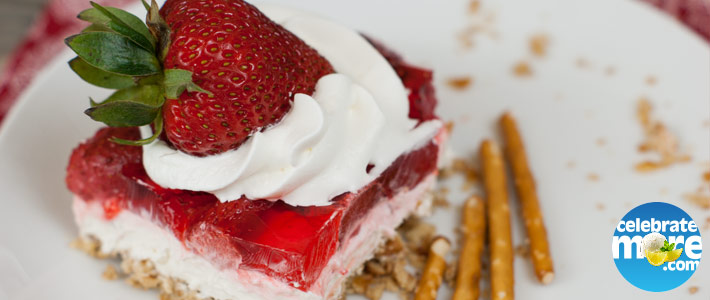 Strawberry Pretzel Bars
Ingredients:
4 Tbsp Sugar
1 Cup Butter, melted
2 Cups Pretzels, finely crushed
6 Oz. Box Strawberry Jello
8 Oz. Cream Cheese, softened
2/3 Cup Sugar
8 Oz. Whipped Topping, thawed
14 Oz. Frozen, Sliced Strawberries
Garnish (optional):
1 Lb. Fresh Strawberries
8 Oz. Whipped Topping, thawed
Directions:
Combine 4 Tbsp sugar with melted butter. Add to crushed pretzels and mix well.
Press pretzel mixture into bottom of 9×13 pan. Bake at 375ºF for about 10 min. Remove from oven and let cool completely.
Meanwhile, bring 2 cups of water to a boil. Add Jello and stir until fully dissolved; remove from heat and allow to cool completely.
While crust and jello are cooling, combine cream cheese, sugar and whipped topping in a large bowl. Beat until smooth.
Once crust is cooled, spread cream cheese mixture evenly over crust, making sure mixture covers any holes, especially around edges.
Place sliced strawberries in single layer on top of cream cheese mixture. Then poor jello mixture evenly over top.
Refrigerate for at least 4 hours, or until jello is fully set.
Before serving, add 12 dollops of whipped topping in a 3×4 grid followed by a fresh strawberry on each dollop. Cut into 12 bars and serve chilled.