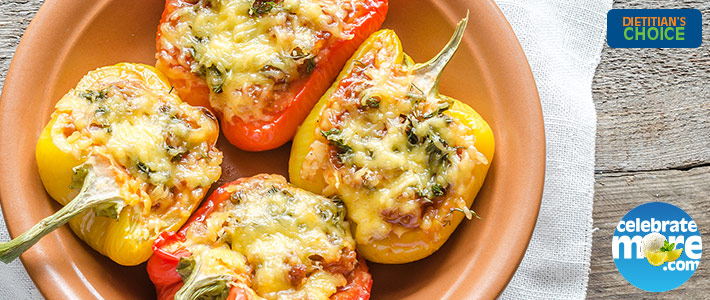 Ingredients
4 Medium Bell Peppers (any color)
2 Tbsp. Olive Oil
1 Lb. 93% Lean Ground Turkey
1 Small Onion, chopped
1-2 Cloves Garlic, minced
1 Packet Mrs. Dash Taco Seasoning
3/4 Cup Water
1 Can (8 Oz.) No-Salt Added Diced Tomatoes
1 Bag Frozen, Steamable Brown Rice
1 Can (15 Oz.) No-Salt Added Black Beans
1/2 Cup Reduced-Fat Shredded Cheese (Mexican Blend or Sharp Cheddar)
Instructions
Preheat oven to 350ºF
Carefully cut the peppers in half to create 2 "bowls". Scrape out the seeds and cut off the stems.
Cook them in boiling water for 5 minutes, remove and turn upside down to drain well.
Heat oil in large nonstick skillet over medium-high heat. Cook onion and garlic until onions are translucent.
Add turkey meat and seasoning, cook according to package directions.
Steam brown rice in microwave according to package directions.
Once meat is cooked and seasoned, add black beans, rice and tomatoes.
Spoon mixture into peppers and bake for 30 minutes. During last 5 minutes of cooking, sprinkle shredded cheese on top.
Notes
Try grilling peppers in an aluminum pan for a roasted pepper flavor. Add other veggies and seasoning into the mix to make it your own.