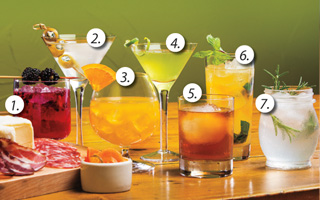 Summer Libations
1. Blackberry Vodka Crush – 1 part Black Raspberry Shrub*, 1 part vodka, 2 parts soda, black raspberries for garnish, served on crushed ice

2. Martini – 2 parts dry gin (or vodka), ½ part dry vermouth, dash of orange bitters (optional), blue cheese stuffed olives for garnish

3. Eldorado Gold – 2 parts añejo blue agave tequila, 1 part añejo rum, 1 part Cointreau, 1 teaspoon agave nectar, fresh orange and pineapple juice (to taste), orange wedge for garnish

4. The Last Word – A Prohibition classic! Equal parts dry gin and green chartreuse, 1 part maraschino liqueur, 1 part fresh lime juice

5. Classic Manhattan – 2 parts rye whiskey or bourbon, equal parts sweet vermouth, dash of angostura bitters, served with a single large ice cube
(1 stemmed maraschino cherry, optional)

6. Mojito – 4 parts añejo rum, 3 parts fresh lime juice, 1 part soda, demerara (brown sugar), muddled fresh mint

7. Rosemary Gin Fizz – 2 parts gin, 1 part fresh lemon juice, 1 part rosemary simple syrup, 1 part soda, rosemary sprigs for garnish

*Black Raspberry Shrub
1. In a wide-mouth container, combine about a cup of black raspberries with 1 cup of cane sugar and smash this together with a muddler. Cover, chill in the refrigerator for up to 2 days.

2. To make it more syrupy, add ½ cup water to your mixture. Then, strain all the seeds and pulp from the syrup making sure you squeeze all the juice out of them. Makes about 1½ cups.

3. Add 1 cup red wine vinegar to syrup, stir. Chill in refrigerator for 1 to 2 hours. Flavors will deepen the longer you let it chill.