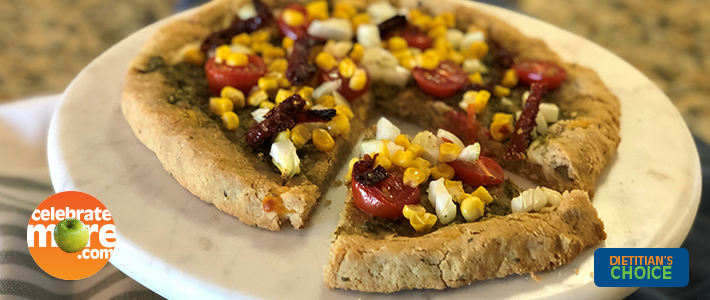 Summertime Cheese Stuffed Pizza
Ingredients
8 Oz. of your favorite Pizza Crust, dough prepared
6 Crystal Farms String Cheese Packets, unwrapped
1/4 Cup Pesto
1/4 Cup Zucchini, thinly sliced
1/4 Cup Grape Tomatoes, halved
1/4 Cup Sweet Corn
1/4 Cup Red Onion, chopped
Extra Virgin Olive Oil, for drizzling
Suggested fresh toppings: fresh basil leaves, arugula, pickled jalapenos
Instructions
Preheat oven to 350°F.
Add parchment paper to a large cookie sheet or pizza pan and set aside.
Take your prepared pizza dough and roll it out into ball. Place on parchment paper and shape into a 12-inch pizza circle.
Place string cheese packets around edge of pizza dough and roll dough over, pressing to seal the cheese pocket.
Bake crust for 15 minutes.
Remove crust from oven. Top with pizza toppings and bake for an additional 15-20 minutes.