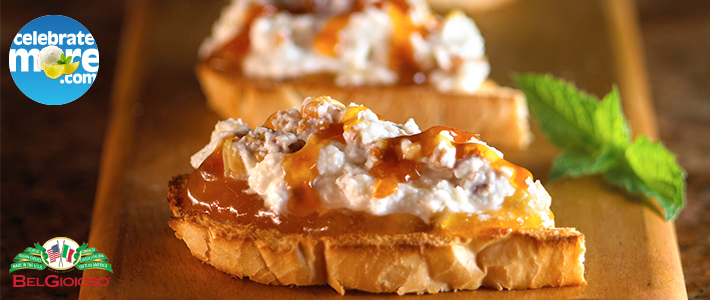 Sweet and Savory Burrata on Toast
Ingredients
8 oz. BelGioioso Burrata Cheese, drained
2 Tbsp. Golden Raisins, plumped in hot water or rum, drained
1/4 Cup Toasted Walnuts, coarsely chopped
4 Slices Sourdough Bread
6 Tbsp. Apricot Preserves
2 Tbsp Apple Glaze or Syrup (or other fruit glaze)
Instructions
Chop the drained Burrata and transfer to a mixing bowl.
Stir in plumped raisins and toasted walnuts. Set aside. (Note: Do not prepare more than 2 hours before serving).
For each serving, toast one bread slice. Spread with 1 1/2 Tbsp. preserves. Top with thick later of BelGioioso Burrata mixture, spread evenly. Drizzle cheese with 1/2 Tbsp. apple glaze. Cut into thirds to serve.
Notes
Recipe and image provided by BelGioioso.