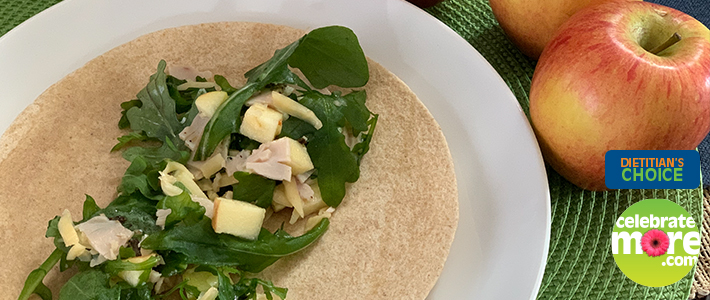 Sweet and Savory Turkey Wrap
Ingredients
2 large handfuls of Dole arugula
1/2 Honeycrisp apple, chopped
2 oz. Sliced Deli Turkey, chopped*
2 oz. Gouda Cheese, shredded
1/4 onion, sliced
2 Tbsp. Salad Girl Dressing**
2 Whole Wheat tortillas
Instructions
Combine arugula, turkey apple, shredded cheese, onion slices and dressing in a medium bowl.
Lay out tortillas and place salad mixture down the center of each. Fold the side flaps inward and roll the wrap up like a burrito.
Notes
*Try out NEW Dietz & Watson deli meats available at Coborn's and Marketplace Foods stores. 
**We recommend trying the Crisp Apple Maple or the Blueberry Pomegranate Salad Girl dressings for this wrap. Both are available in our produce departments!