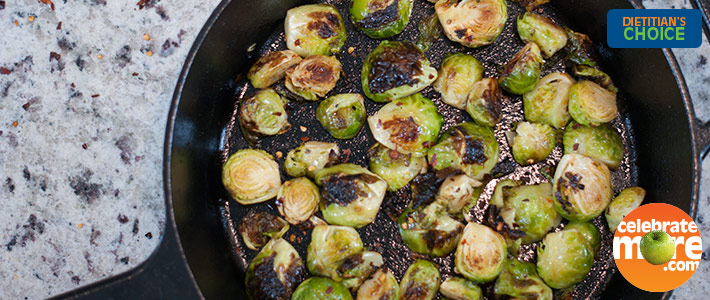 Sweet and Spicy Brussels Sprouts
Ingredients
1 pound of Brussels sprouts, trimmed and sliced in half
1 Tbsp. Olive Oil
Salt and Pepper, to taste
1/2 tsp Crushed Red Pepper Flakes
1 Tbsp. Honey
1 1/2 tsp Sriracha Sauce
Instructions
Preheat the oven to 400 F.
In a mixing bowl, combine Brussels sprouts, olive oil, salt, pepper, and red pepper flakes. Toss together until evenly coated. Arrange Brussels sprouts onto a cast iron skillet and bake in the oven for 25-30 minutes, or until golden brown. Broil them for about 2 minutes at the end to crisp up the Brussels sprouts.
In a small bowl, mix together the honey and Sriracha sauce with a fork.
Carefully remove the Brussels sprouts from the oven. Add in the honey and Sriracha mixture and stir together with a rubber spatula. Serve as a side dish with ranch or blue cheese if desired.
Notes
This is a perfect side dish for Thanksgiving and other Holiday gatherings! Need more spice? Add more red pepper flakes and opt for more Sriracha sauce.
Recipe adapted from AllRecipes.com