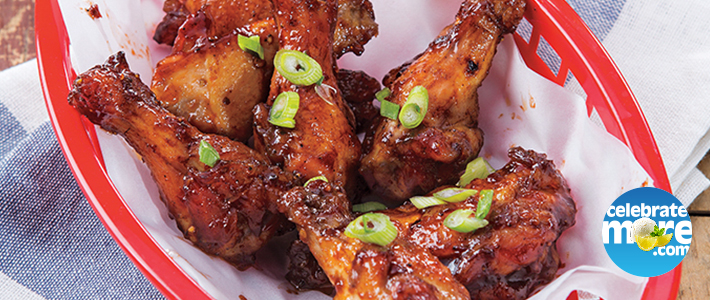 Sweet & Spicy BBQ Drumettes
Ingredients
Nonstick cooking spray
½ Cup Cider Vinegar
½ Cup Grape Jelly
½ Cup Ketchup
2 tsp Paprika
1 tsp Crushed Red Pepper Flakes
1 tsp Fresh Ground Black Pepper
¼ tsp Salt
2 Lbs. Chicken Drumettes
3 Green Onions, thinly sliced (about ¼ cup)
Instructions
Preheat oven to 425°F. Line rimmed baking pan with aluminum foil; spray with nonstick cooking spray. In small saucepot, heat vinegar, jelly, ketchup, paprika, crushed red pepper, black pepper and salt to simmering over medium heat; simmer 6 to 8 minutes or until slightly thickened and reduced by about one-third, stirring occasionally. Remove from heat; cool. Makes about 1 cup.
Pat chicken dry with paper towel. In large bowl, toss chicken with half the sauce until well coated. Place chicken in single layer on prepared pan. Roast 35 to 40 minutes or until chicken is browned with crispy edges and internal temperature reaches 165°F, turning twice during roasting.
Transfer chicken to large bowl; toss with remaining sauce. Serve chicken sprinkled with onions.
Percent Daily Values are based on a 2,000 calorie diet. Your daily values may be higher or lower depending on your calorie needs.