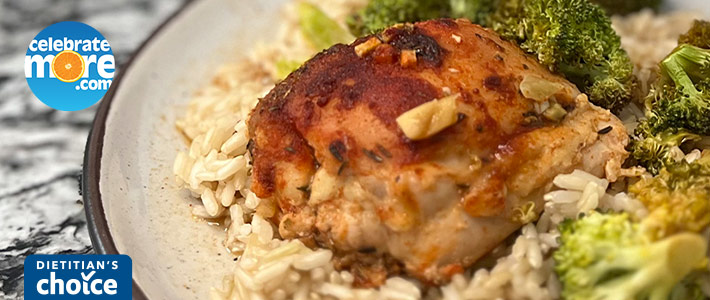 Sweet & Spicy Chicken & Broccoli
The perfect balance of sweet and spicy! Elevate the flavors for your dinner tonight with ingredients you already have on hand. Kick the heat up a notch by adding in crushed red pepper flakes. 
Ingredients
For the sauce

• 1/2 C. Sriracha Sauce
• 4 Tbsp. honey
• 2 Tbsp. Lower Sodium Soy Sauce
• 1 Tbsp. White Vinegar
• 1 Tbsp. Lime Juice
• 3 Cloves Garlic, minced
• 2 Inches Fresh Ginger, minced
• Crushed Red Pepper Flakes, if extra heat is desired

For the chicken + broccoli

• 2 Lbs. Skinless Chicken Thighs
• 1 Tbsp. Olive Oil
• 1/2 tsp. Smoked Paprika
• 1/2 tsp Garlic Powder
• 1/2 tsp. Dried Thyme
• 3-4 C. Fresh Broccoli, chopped into bite-sized florets
• 4 C. Brown Rice, cooked
Instructions
Preheat the oven to 375°F and prepare a large baking dish with cooking spray. Set aside.
In a small bowl, combine Sriracha sauce, honey, soy sauce, vinegar, lime juice, garlic, ginger, and crushed red pepper flakes (optional). Whisk together until well combined and set aside.
Season chicken thighs with smoked paprika, garlic powder, and thyme. Set aside.
Heat olive oil in a skillet over medium-high heat. Add chicken thighs to the skillet and brown each side. This should take about 2 minutes per side.
Place chicken thighs into prepared baking dish. Pour 1 1/2 cups of the honey sriracha sauce over the chicken, saving the rest of the sauce for serving. Toss the chicken to fully coat. Bake for 20 minutes.
Remove from oven and top the dish with broccoli. Carefully toss the broccoli to coat in sauce.
Put dish back into oven for 15 minutes, or until broccoli is soft and the chicken is baked through to 165°F. Serve over brown rice with extra sauce to taste!