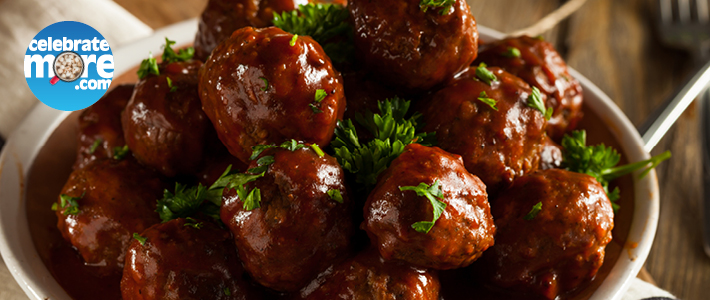 Ingredients
1/4 C. Dried Breadcrumbs
1 tsp. Kosher Salt
1/4 Ground Black Pepper
1 tsp. Garlic Powder
1 Egg
1 Lb. Lean Ground Beef
2 Tbsp. Olive Oil
Sauce
1/4 C. Water
1/4 C. BBQ Sauce
1/2 C. Pepper Jelly
Fresh Parsley, chopped, as garnish
Instructions
In a large bowl, combine the breadcrumbs, salt, pepper, garlic powder and egg. Add in the ground beef and mix all ingredients together until well combined.
Scoop one tablespoon of the meatball mixture and roll it into a ball. Set aside on a clean plate. Repeat this step with the rest of the mixture.
In a large skillet over medium heat, add olive oil and carefully place about half the meatballs in the skillet. Brown the meatballs on all sides. Once browned, place on a new, clean plate off to the side. Repeat with additional meatballs. All meatballs should be removed from the pan after they are browned.
Next, make the sauce. In the same skillet, heat the water over medium heat. While the water simmers, carefully scrape the bottom of the pan. Don't discard them! These browned bits from the meatballs will offer great flavor to the sauce!
Add the BBQ sauce to the pan with water. Stir well and bring to a simmer, stirring continuously. Add the pepper jelly. Stir until smooth.
Add the meatballs back into the pan with the sauce. Gently stir the meatballs into the sauce, coating them evenly. Let simmer for about 10 minutes until meatballs have reached an internal temperature of 160°F.
Garnish the meatballs with fresh parsley and serve!
These Sweet & Spicy Meatballs are bite-sized deliciousness and are the perfect appetizer for any gathering! Find even more great appetizers on our appetizers page!
Shop from the comfort of your home! You can shop online at any of our proud family of stores for these recipe ingredients as well as the rest of your grocery list! We offer curbside pick up at all locations and delivery in select locations as well. Don't forget to connect your MORE Rewards account when you shop online for extra savings, digital coupons, and many other rewards too!
Shop Ingredients