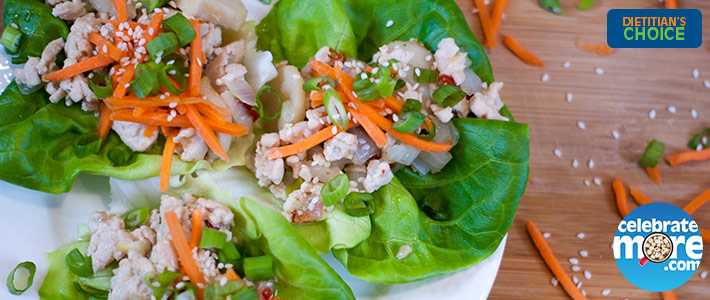 Sweet Thai Chili Lettuce Wraps
Ingredients
1 Lb. 93% Lean Ground Turkey
2 Tbsp. Olive Oil, divided
1 Cup Yellow Onion, roughly chopped
4 tsp Minced Garlic
1 tsp Fresh Ginger, minced
1 (8 oz.) Can of Water Chestnuts, drained
5 Tbsp Full Circle Sweet Thai Chili Sauce
1 Tbsp Coconut Aminos
8-10 Lettuce Leaves, try Romaine or Butter Lettuce
Toppings
Shredded Carrots
Green Onions, diced
Sesame Seeds, toasted
Instructions
In a large skillet, heat 1 Tbsp of olive oil over medium heat. Add in the ground turkey and break into smaller pieces with a spatula. Season lightly with salt and pepper and cook until no longer pink. Internal temperature should reach 165 F.
Once cooked, remove the ground turkey from the pan and set aside.
In the same pan, heat 1 Tbsp of olive oil. Add in chopped onion, minced garlic, and fresh ginger. Cook for about 3-4 minutes, until onions become translucent. Then, add back in the ground turkey and the water chestnuts. Stir well.
Add in the Sweet Thai Chili sauce and coconut aminos, stirring continuously until everything is coated and heated through.
When ready to serve, fill romaine leaves or butter lettuce with turkey mixture. Top with shredded carrots, green onions, and toasted sesame seeds.
Notes
Never used fresh ginger before? Use a spoon to peel the skin off, then you can cut into small pieces with a knife or use a grater to mince the ginger. Once you're done, you can store the rest of the ginger in the freezer!
We love the Full Circle Sweet Thai Chili sauce in this recipe! Not only is it lower in sugar than other sauces, it has fabulous flavor with a bit of a kick! The Coconut Aminos are also a great substitution for soy sauce with less sodium.
Per 1 Lettuce wrap: calories 190, total fat 10g, saturated fat 2g, trans fat 0g, cholesterol 45mg, sodium 140mg, total carbohydrate 12g, dietary fiber, 2g, sugars 5g, protein 12g, vitamin A 60%, vitamin C 10%, Calcium 8%, Iron 10%