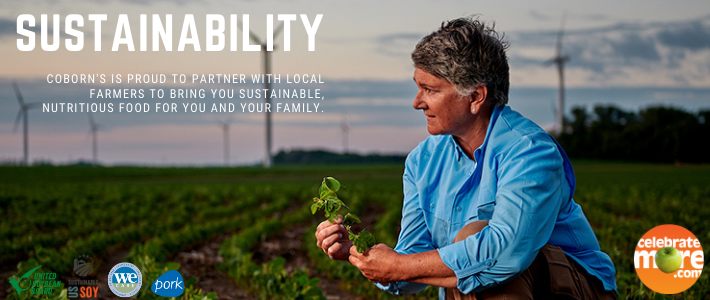 At Coborn's, every day is Earth Day! From the farm, to the shelves, to the table, we know that what we all do matters for people, animals, and the planet. Health and well-being is on our minds more than ever, so let's dig into the story of the food we eat and the farmers who grow and raise it.
It Starts on the Farm.
Farming isn't just a job — it's a calling and a commitment. It takes knowledge and passion to combine science with the care needed to grow an amazing variety of nutrient-rich foods you find in our stores to fill your pantries. Most farms (97%!) across the country are family owned and passed from generation to generation. Rochelle Krusemark is a Minnesota based farmer raising pork and growing soybeans, among other crops. For her, farming is a family affair, which she shares with her husband Brad, their two children and their three grandsons.
Each farm is different, with each farmer considering the soil, weather, water, and many other factors that directly impact their farm and the people, animals, and natural resources that surround it. Rochelle's 2,100 acre farm presents a unique set of challenges – one she rises to every morning year round. This is why we proudly share the farmer story – to teach about what they do to ensure a safe, delicious, nutritious and affordable food supply is available to us every day.
————-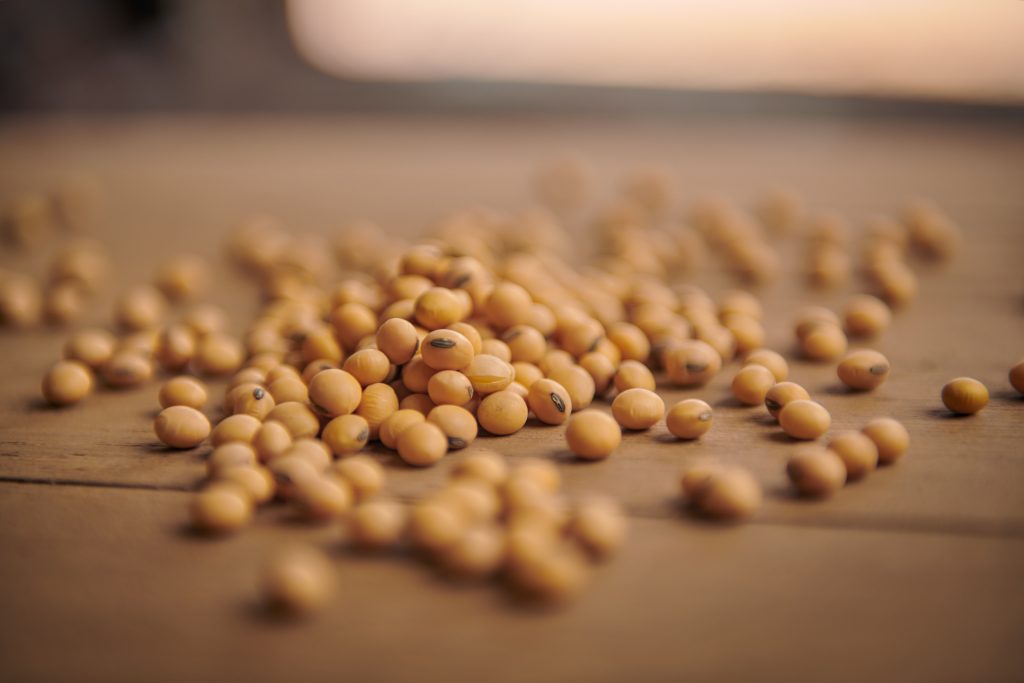 To help bring this story to life, let's take a closer look at soybeans and pork. Minnesota's geography and weather make it a perfect place to grow and raise both of these nutrient-rich foods. Most people don't realize that soybeans are actually the number one vegetable oil crop grown worldwide, and one of the largest row crops in the United States. Soybeans are a high-quality protein source (containing all the essential amino acids) for both animals and people. Soybeans are also used to make heart healthy soybean oil, commonly labeled vegetable oil in the grocery store. They contain several nutrients we need to thrive, including folate, potassium, fiber, and omega-3 polyunsaturated fatty acids. In addition to feeding animals and us, soybean and pig farmers care for the planet, too!
Soybeans are a sustainable choice because they use nitrogen from the atmosphere to grow, which means they don't require extra fertilizer. This is important for both the plants and for healthy soil.
—–———-
—–———-
Like soybeans, pork is a sustainable, nutrient-rich choice. Pork has many beneficial qualities that make it easy to incorporate into a balanced menu. From decadent cuts like bacon to lean cuts like the pork tenderloin, pork provides a variety of options that are flavorful, easy to make, and enjoyable for people of all ages.
—–———-
For decades, America's pig farmers have worked closely with veterinarians and other
pig health professionals reviewing and researching what pigs eat and how they are raised and bred to develop leaner, higher quality meat that people continue to prefer. In fact, pork has consistently been the number one protein enjoyed worldwide.
Pork, by definition, is an "excellent" source of nutrients important in supporting our health, including vitamin B-6, thiamin, phosphorus, niacin and selenium, and protein and a "good" source of zinc, riboflavin and potassium. Both the pork tenderloin and pork sirloin roast meet the criteria for the American Heart Association.
In addition to the nutrients and flavor pork provides, pig farmers are committed to managing their farms in environmentally responsible ways. Renewable energy, conservation, recycling, land management, water and air quality, and manure management are priority areas of continuous improvement for pig farmers.
—–———-
Animal welfare is foundational on the farm and drives every decision farmers make, from growing and providing nutritious soy feed for pigs all the way to the type of barns built. What farmers grow and raise demands their attention from the ground up – check out some of the ways farmers have been caring for the land and animals for decades and with an eye to the future.
In recent years, the idea of "sustainability" has become top of mind in our food conversations. To farmers, sustainability is more than just a word – it's a way of working. It's a way of life. Sustainability is making sure that
natural resources like water, soil, and nutrients to support plants and animals are used efficiently and intentionally. Sustainability means conserving those resources when possible, using only what we need now so that future generations can continue to grow and raise our food.
This is why many farmers raise and grow multiple things. Modern farms of all sizes are diversified, doing everything needed to grow and raise our food. Rotating crops seasonally allows farmers to grow efficiently, while also refreshing and restoring the soil. Many farmers, like Rochelle Krusemark, even let plants and animals share their land. Rochelle raises pigs and cows and grows soy and corn.
—–———-
From the Farm to the Store
Now that you've heard from your farm team – the farmers, animal nutritionists, and veterinarians, it's time to hear a little from us at Coborn's Inc, because it's not just farmers and their families who do this. Retailers like Coborn's are also engaged in sustainability initiatives tied to our food supply. Our Coborn's team supports and promotes sustainability with employees, suppliers, communities, and you!
"Coborn's continued success depends upon sustaining our environment, the people in our company, the communities we serve, and the way our business operates. Coborn's has always been committed to the responsible use of environmental resources, and seeks continuous improvement in sustainability. These aspirations consider the well-being of our employee/owners, customers, suppliers, communities and ethical commitments."
Just like farmers (and you!), Coborn's makes reductions wherever practical in consumption of energy, fuel, water and materials. We explore, and implement wherever practical, alternatives for reducing, reusing, and recycling materials.
————–
Cooking with pork is beneficial in many ways. It is an extremely versatile protein and certain pork cuts like pork tenderloin and pork chops provide us with the proper pork nutrients our body needs. With a variety of pork cuts and cooking methods, the opportunities for how to cook pork are endless. Short and simple videos bring it back to the basics while also providing new and fresh ideas. Check out the globally inspired and mouthwatering dishes for a delicious staycation this spring
Our food has a delicious, rich history from the farm to the store to your table. The biggest question to start with is, what will you cook first?
———-
Written By Kim Kirchherr, MS, RD, LDN (IL), FAND, ACSM-CPT on behalf of the United Soybean Board and National Pork Board in partnership with Coborn's Dietitians Amy Petersen, MS, RD, LD and Emily Parent, MFCS, RD, LD