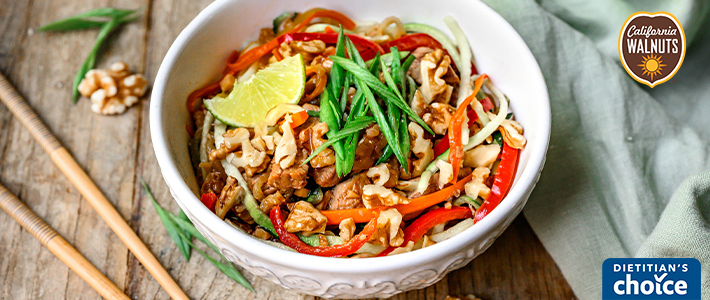 Teriyaki Pork & Walnut Zucchini Noodle Bowl
Ingredients
2 Tbsp. Sesame Oil, divided
4 Cloves Garlic, minced and divided
1 lb. Lean Pork Tenderloin, trimmed of visible fat and cut into ½-1-inch thick strips
1 Medium Red Bell Pepper, chopped
1-1/4 C. Shredded or Matchstick-cut Carrots (about 4 ounces)
1 C. Chopped Walnuts
1 lb. Prepared Zucchini Noodles
1/4 C. Lower Sodium Teriyaki Sauce, with 1 Tbsp. water mixed in
1/4 C. Chopped Green Onion Tops
Instructions
Heat 1-1/2 teaspoons sesame oil in a large skillet over medium-high heat until hot. Add half of the minced garlic cloves and half of the pork; cook and stir 5 minutes, or until browned and 145°F. Set aside. Repeat with 1-1/2 teaspoons sesame oil, remaining half of minced garlic cloves and pork; set aside.
To the same skillet, over medium-high heat, add remaining 1 tablespoon sesame oil, bell pepper, carrots and walnuts; cook and stir until vegetables are tender; about 3-5 minutes.
Reduce heat to low; add zucchini noodles, pork and combined teriyaki sauce and water to the skillet; use tongs to coat mixture evenly with sauce; cook 5 minutes until heated through. Garnish with green onions and serve.
Notes
Recipe and image provided with permission from CA Walnuts. Original recipe by Beth Stark, RDN, LDN.
This lighter take on a teriyaki noodle bowl is a quick and easy crowd-pleasing meal, perfect for weeknight dinner. Featuring thinly sliced strips of pork tenderloin, bell peppers, matchstick carrots, spiral zucchini noodles and walnuts all tossed in a simple teriyaki sauce.