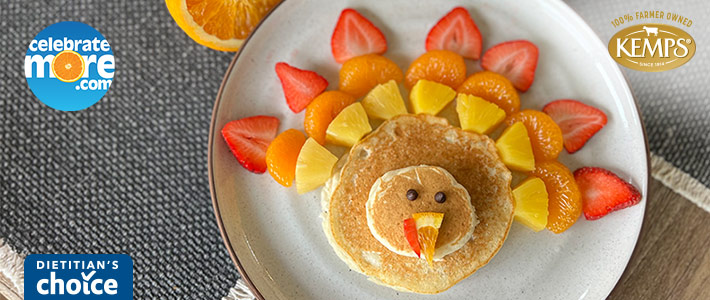 Thanksgiving Turkey Pancakes
Have fun with food and celebrate turkey day with these adorable, tasty and fun Thanksgiving Turkey Pancakes! Our dietitians are adding new recipes all the time, so check out our Dietitians Choice Recipes page for all their latest recipes!
Shop from the comfort of your home! You can shop online at any of our proud family of stores for these recipe ingredients as well as the rest of your grocery list! We offer curbside pick up at all locations and delivery in select locations as well. Don't forget to connect your MORE Rewards account when you shop online for extra savings, digital coupons, and many other rewards too!
Thanksgiving Turkey Pancakes
Ingredients
Pancakes
2 1/4 C. Old Fashioned Oats, uncooked
1 C. Kemps Skim Milk
1 C. 2% Milk Fat Kemps Cottage Cheese
1 Egg
1 Tbsp. Maple Syrup
1 tsp. Ground Cinnamon
1/4 tsp. Salt
1 tsp. Vanilla Extract
1 1/2 tsp. Baking Powder
Olive Oil Spray, to grease pan
For Decorating
1 Can Pineapple Chunks in 100% Juice
1 Can Mandarin Oranges in 100% Juice
1 Pint Strawberries, sliced
1 Orange, sliced
Mini Chocolate Chips
Instructions
Pancakes
Combine all ingredients (except olive oil spray) in a blender and blend until smooth, about 30 seconds.
Bring a skillet to medium heat and spray with olive oil spray.
Make one "normal" sized pancake, and one that is about 1/4 the size. Cook until the top begins to bubble, then flip and allow to cook for another 1-2 minutes. Repeat the process until batter is gone.
To Decorate
Arrange the fruit for the turkey's "feathers" as pictured. Start with a pineapple chunk, then mandarin orange, followed by a sliced strawberry.
Use mini chocolate chips to create the eyes.
Cut your orange slice into a small triangle and place as the beak.
Cut one of your sliced strawberries into a strip to create the snood.
Notes
Cottage Cheese Pancake recipe inspired by Kemps.
Shop Ingredients