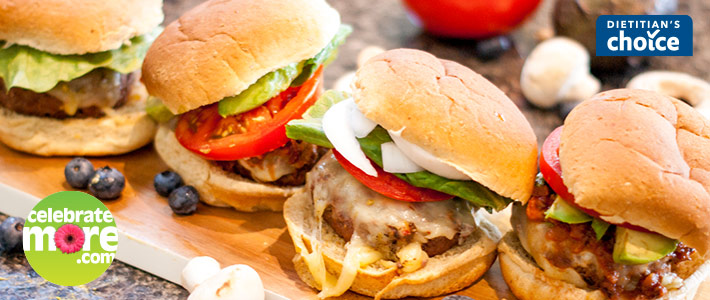 Ingredients
1 lb of lean ground beef 93/7
8 oz of mushrooms (white button and/or crimini mushrooms)
½ of Mrs. Dash Taco seasoning packet
1 avocado, sliced
Sliced cheese
Corn and black bean salsa
Lettuce
Tomato slices
Onion slices
Whole wheat buns
Instructions
Thoroughly wash the mushrooms. Pat dry and place in a food processor. Plus slowly to make the mushrooms similar in texture to cooked ground beef.
In a medium skillet, sauté onion with 1 Tbsp. of oil over medium heat for 3-4 minutes. Remove from pan and set aside to let cool.
In a large bowl, combine the lean ground beef and cooled mushrooms. Add in the taco seasoning and blend together well.
Once well blended, divide the mixture into 4 patties.
Grill until the center has reached proper internal temperature of 160 degrees Fahrenheit. Just before removing from the grill, add on cheese and let melt.
Place each patty onto a whole wheat bun and add on the toppings! Start with salsa, lettuce, tomato, onions and avocado.