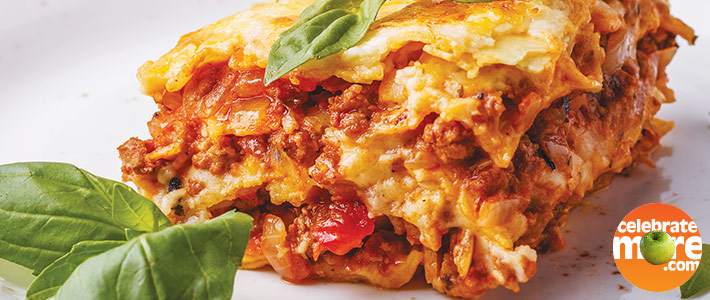 Ingredients
1/2 Box Lasagna Noodles
2 Jars Marinara Sauce
4 Cups Mozzarella Cheese, shredded
2 Eggs, lighten beaten
1 Lb. Italian Sausage, cooked and drained
15 Oz. Ricotta Cheese
1/2 Cup Parmesan Cheese, grated
Instructions
Preheat oven to 375ºF.
Cook pasta according to package directions; drain and separate.
In large saucepan, combine cooked meat and 1 1/2 jars marinara sauce. Simmer 5 minutes.
In large bowl, combine ricotta, 3 1/2 cups mozzarella, parmesan and eggs.
Grease 13x9 inch baking dish. Spread 3/4 cup marina over bottom of dish.
Place 3-4 lasagna noodles on bottom, overlapping slightly.
Spread half of cheese mixture over lasagna followed by half of meat mixture.
Add another layer of noodles, followed by remaining cheese and meat mixtures.
Cover last layer with remaining noodles and remaining marinara sauce. Then sprinkle with remaining mozzarella cheese.
Cover with foil and bake 30 minutes. Remove foil and bake additional 10 minutes.
Let stand 10 minutes before serving.