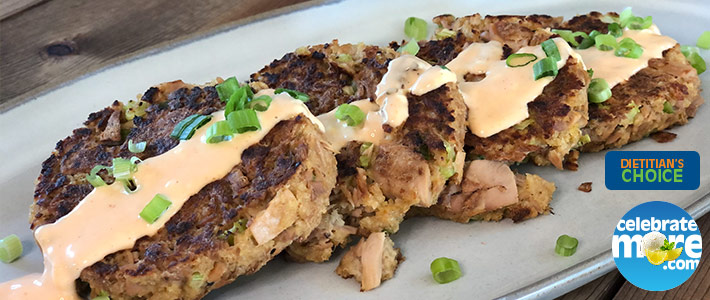 Tuna Patties with Sriracha Aioli
Serving Size
1 Tuna Patty
Ingredients
Tuna Patties
1 (15 oz. Can) Food Club Tuna in Water, drained
2 Eggs, beaten
1/2 Cup Food Club Whole Wheat Panko Breadcrumbs
1 Rib of Celery, chopped
2 Stalks Green Onion, thinly sliced
1/4 Cup Mayo made with Olive Oil
*Olive Oil (for cooking on stovetop)
Sriracha Aioli
1 Cup Mayo made with Olive Oil
1/4 Cup Lime Juice
2 Tbsp. Sriracha
Instructions
Drain the tuna & combine all ingredients for tuna patties in a medium bowl until well combined.
Form into patties (should make about 4-6 depending on the size of the patty).
Heat 2 tablespoons of olive oil in a medium pan over medium heat.
Place patties in heated pan and cook patties for 2-3 minutes per side or until lightly browned.
While tuna patties are cooking, prepare aioli by combining mayo, lime juice and sriracha.
Serve tuna patties with sriracha aioli.