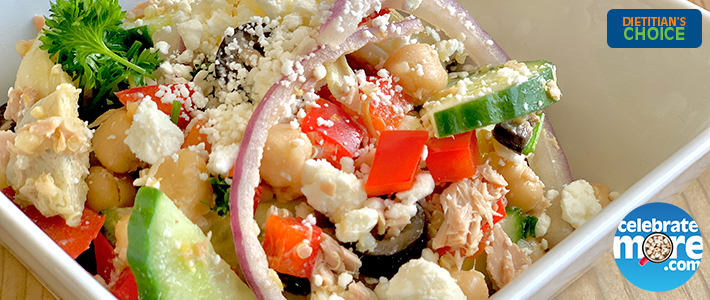 Ingredients
1 Cup of quinoa, cooked
12 oz Food Club Canned Tuna In Water, drained
1 Tbsp. Minced Garlic
1 Can (15 oz) Garbanzo Beans, drained and rinsed
1 Red Bell Pepper, chopped
1/2 Red Onion, thinly sliced
1 Cucumber, cut in half lengthwise, and sliced
1/2 Cup Black Olives, sliced
1/2 Cup Artichoke Hearts, drained and rinsed, roughly chopped
1/2 Cup Fresh Parsley, roughly chopped
3 Tbsp. Extra Virgin Olive Oil
Juice, 1 Lemon
Zest of 1 Lemon
Feta Cheese, crumbles
Instructions
Cook quinoa according to package instructions. Once cooked, set aside to cool.
In a large bowl, combine cooled quinoa and all other ingredients and mix well to combine. Garnish with crumbled feta cheese and salt & pepper to taste.
Notes
This recipe is perfect to prep on weekends and pack for easy lunches throughout the week. Great to eat on it's own, or serve in lettuce wraps!