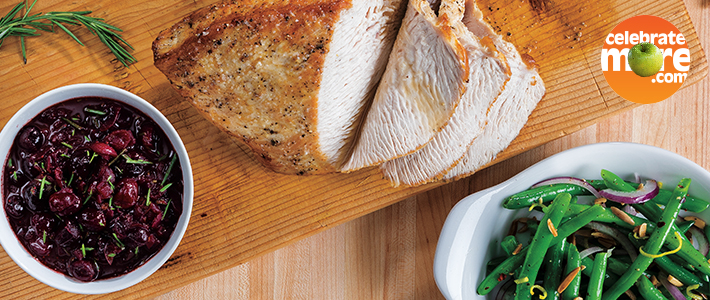 Turkey Breast with Balsamic-Cranberry Sauce
Ingredients
1 Turkey Breast (about 2 pounds), boneless, skinless
¾ tsp Kosher Salt
¼ tsp Fresh Ground Black Pepper
1 Tbsp. Olive Oil
2 Cups Fresh Cranberries
2 Tbsp. Balsamic Vinegar
2 Tbsp. Honey
1 Tbsp. Unsalted Butter
2 Medium Shallots, chopped (about ½ cup)
2 tsp Fresh Rosemary, chopped
1 Cup Reduced-Sodium Chicken Broth
Instructions
Preheat oven to 450°F; sprinkle turkey with ¼ teaspoon each salt and pepper. In oven-safe large skillet or roasting pan, heat oil over medium-high heat. Add turkey and sear 2 minutes per side or until outside is browned.
Transfer skillet with turkey to oven; roast 25 minutes or until internal temperature reaches 160°F. Transfer turkey to cutting board; loosely cover with aluminum foil and let stand 10 minutes (internal temperature will rise 5 to 10°F upon standing).
In medium saucepot, cook cranberries, vinegar and honey over medium heat 5 minutes or until some cranberries pop, stirring occasionally.
In same large skillet, melt butter over medium heat. Add shallots and rosemary; cook 3 minutes or until shallots begin to soften, stirring occasionally. Increase heat to high; add broth and heat to a boil. Boil 5 minutes or until slightly reduced, scraping bottom of skillet with wooden spoon to loosen any browned bits; reduce heat to medium. Stir in cranberry mixture and remaining ½ teaspoon salt; cook 5 minutes or until thickened slightly. Makes about 1½ cups.
Slice turkey and serve with sauce.
Percent Daily Values are based on a 2,000 calorie diet. Your daily values may be higher or lower depending on your calorie needs.