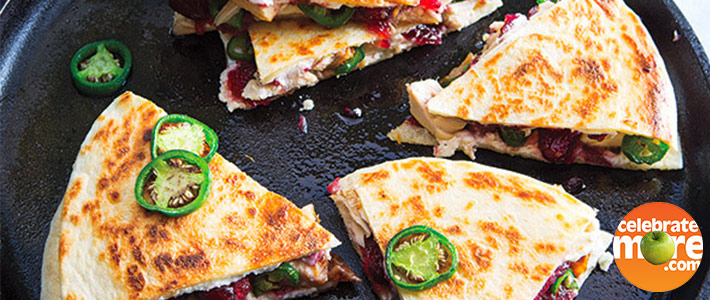 Turkey, Cranberry & Goat Cheese Quesadillas
Prep: 10 minutes
Cook: 10 minutes • Serves: 4
1/4 cup leftover or whole berry canned cranberry sauce
1-1/2 teaspoons lime zest
4 (8-inch) flour or 100% whole grain tortillas
1 package (4 ounces) chèvre (goat cheese), softened
1/2 small jalapeño chile pepper, seeded if desired, thinly sliced
1 cup chopped leftover or cooked turkey
Nonstick cooking spray
In small bowl, stir cranberry sauce and lime zest.
Place tortillas on work surface; evenly spread with chèvre then cranberry sauce mixture. Evenly top 2 tortillas with jalapeño and turkey; top with remaining tortillas to close quesadillas.
In 2 batches, spray large skillet with cooking spray; add 1 quesadilla and cook over medium-low heat 2 to 3 minutes or until bottom is golden brown. Spray top of quesadilla with cooking spray; turn and cook 2 to 3 minutes longer or until bottom is golden brown. Cut each into 6 wedges; serve with wedge of lime, if desired.

Approximate nutritional values per serving:
301 Calories, 9g Fat (5g Saturated), 47mg Cholesterol,
590mg Sodium, 33g Carbohydrates, 0g Fiber, 20g Protein

Shop Ingredients