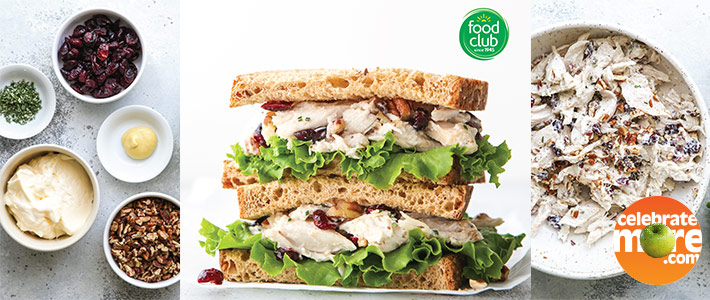 Turkey Cranberry Salad Sandwiches
Ingredients
4 Cups Leftover Cooked Turkey, shredded or cubed
1/2 Cup Cranberries, chopped
1/2 Cup Pecans, chopped
2/3 Cup Mayonnaise or Plain Greek Yogurt
1 tsp Dijon Mustard
1 tsp Fresh Rosemary, chopped or 1/2 tsp Dried Rosemary
1 tsp Salt
1/2 tsp Ground Black Pepper
Lettuce Leaves
Sliced Bread
Instructions
In a large bowl combine turkey, chopped pecans, cranberries, mayonnaise or plain greek yogurt,
Dijon mustard, rosemary, salt and pepper.
Arrange lettuce on slices of bread and top with a generous scoop of turkey cranberry salad
mixture. Add a slice of bread to the top and serve immediately.
Store any leftover turkey cranberry salad in the fridge for up to 1 week.