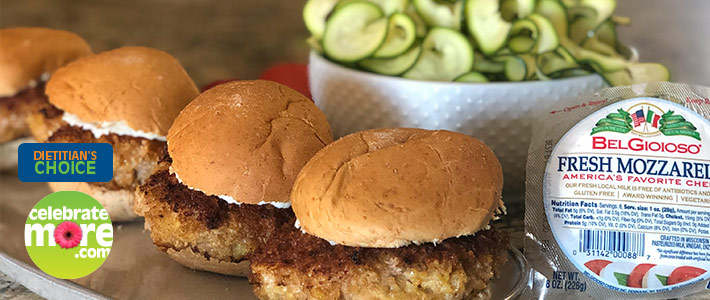 Ingredients
16 oz. Ground Turkey
1 Tbsp. Marinara, plus more for serving
2 Eggs, slightly beaten
1 tsp. Water
1 Cup White Whole Wheat Flour
1/4 Cup Belgioioso Pizza Blend Cheese
2 tsp. Fresh Basil, minced
1 Cup Whole Wheat Panko Bread Crumbs
2 Tbsp. Extra Virgin Olive Oil
1/2 Ball Belgioioso Burrata, cut into 4 slices
8 Whole Wheat Buns
Instructions
Combine ground turkey with marinara. Divide the ground turkey into 4 portions and gently pat into slider-size patties about 1/2" thick.
Heat 2 tablespoons olive oil in a large skillet over medium heat.
While skillet heats up, in a medium bowl, mix together 1 cup flour, ¼ cup pizza blend cheese, ½ teaspoon each of salt & pepper and 1 ½ teaspoon fresh minced basil.
In a small bowl, beat two eggs with 1 teaspoon water and set aside.
In a small bowl, place 1 cup Panko crumbs , set aside
Dip one patty in the flour mixture, ensuring that all sides are covered. Then dip the floured patty in the egg/water mixture, then place the patty in the Panko crumbs and pat the crumbs gently. Place in the heated pan.
Repeat this process with each patty.
Cook the patties until the bottoms are golden brown & crusty, approximately 3-4 minutes.
Turn the patties over, cook 2-3 minutes then top with 1 slice burrata cheese and remove when cheese is slightly melted.
Serve your turkey parm slider on a whole wheat bun and top with a little marinara and your favorite toppings.