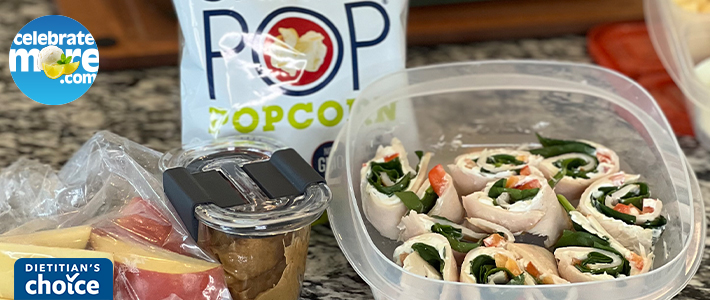 Turkey Roll-Ups aka Lunchbox Sushi
Ingredients
Roll-Ups
2 Slices Dietz and Watson Turkey Deli Meat (Try ham, turkey and roast beef!)
2-3 Tbsp. Low Fat Cream Cheese
1 Handful of Spinach
1/2 Fresh Red Pepper, chopped
Complete your lunch
1 Apple, sliced
2 tbsp. Peanut Butter
1 Snack Pack of Popcorn
Instructions
Wash hands with soap and water.
Gently rub the red pepper and apple under cold running water. Set aside.
Chop the red pepper into small pieces. Set aside.
Assemble your sushi roll! Lay 1 slice of deli meat out flat and spread low fat cream cheese across it. Next, place the spinach and red pepper pieces on top of the cream cheese. Press the veggies into the cream cheese to help keep them in place. Roll up your sushi! Cut the the sushi roll into pieces. And repeat for the second roll. Your sushi is ready!
Cut the apple into slices and place in a to-go container.
Place peanut butter into small to-go container.
Add the snack pack of popcorn to the lunchbox!
Notes
We are proud to partner with Quaker, Dietz & Watson, Triscuit and Wheat Thins to share fun and nutritious back-to-school recipes. 
A fun finger food! These tasty roll ups look like sushi and are packed full of veggies. Round this lunchbox out with popcorn and apples with nut butter, and you have a tasty lunch!