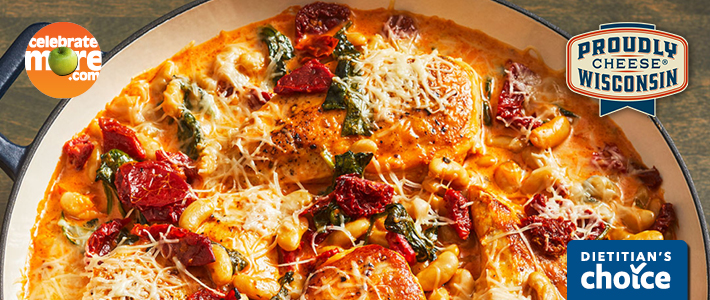 Tuscan Chicken with White Beans
Savor this take on dinner starring the rustic flavors of Tuscany. Simple ingredients and prep, try one-dish Tuscan Chicken with White Beans tonight.
Ingredients
8 oz. Uncooked Fettuccine pasta
4 Boneless Skinless Chicken Breast Halves (6 ounces each)
1/2 tsp. Garlic Powder
Salt and Pepper
4 Tbsp. Butter, cubed and divided
3 Garlic Cloves, minced
3 Tbsp. Tomato Paste
1 1/2 C. Chicken Broth
1 1/2 C. Heavy Whipping Cream
1/4 to 1/2 tsp. Cayenne Pepper
4 oz. Satori Classic Parmesan Cheese, finely shredded and divided (1 1/3 cups)
2 Cans (15.5 oz. each) Cannellini Beans, rinsed and drained
1 bag (5 oz.) Fresh Baby Spinach (about 5 cups), coarsely chopped
1/2 C. Chopped Sun-dried Tomatoes (not packed in oil)
Instructions
Cook pasta according to package directions; drain. Keep warm.
Flatten chicken to 1/2-inch thickness. Season with the garlic powder, salt and pepper. Melt 2 tablespoons butter in a 4-quart Dutch oven or large skillet over medium-high heat. Add chicken; cook for 5-6 minutes on each side or until a thermometer inserted into meat reads 165°F. Transfer chicken to a plate. Keep warm.
Melt remaining butter in the same pan over medium heat. Add garlic; cook and stir for 1 minute. Add tomato paste; cook and stir for 1 minute longer. Reduce heat to medium-low. Gradually add chicken broth and cream. Whisk in cayenne pepper. Bring to a boil; cook and stir until slightly thickened.
Reduce heat to medium-low. Simmer, uncovered, for 6-8 minutes or until sauce is reduced to 2 cups, stirring frequently. Reduce heat to low. Gradually whisk in 1 cup parmesan until melted. Add the beans, spinach and sun-dried tomatoes; cook and stir until spinach is wilted. Season with salt and pepper. Return chicken to the pan. Sprinkle with remaining parmesan. Cover and cook for 2-3 minutes longer or until chicken is heated through. Serve with pasta.